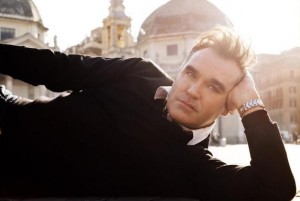 The Guardian is reporting that Morrissey is suing NME Magazine for libel under claims of the magazine portraying him as a "racist and a blatant hypocrite".
The Guardian reports: Britain's most senior libel judge […] Mr Justice Tugendhat is expected to decide within weeks whether the former Smiths frontman should be set a high court date for his long and bitter battle against NME over the article, first published four years ago. Lawyers for the singer told the court on Tuesday that he is willing to be cross-examined as a witness if the trial goes ahead. Morrissey is suing Conor McNicholas, the then-editor of NME, and the magazine's publisher, IPC Media, for libel. If given the green light by Tugendhat, the trial would be the first UK libel case to be heard before a jury for more than two years.
You can read the full text of the article here.
As we do for most law-related stories, we once again turn to the sage advice from our resident Punknews staffer who happens to be an intellectual property lawyer by day, John Gentile. Click Read More to get his take on the situation.
Big Mouth has struck again. Morrissey, former vocalists for the Smiths and long time English superstar, is proceeding with his case for libel against UK based music magazine NME. NME has clashed with Morrissey in the past, suggesting that perhaps the suit is driven more by animus than financial or publicity based concerns. English law may vary a great deal from US law, so I'm not qualified to give an analysis of the suit, but the action itself brings to light a very important concern that many bands, local and international, foolishly omit before proceeding with a suit. Even if you've been wronged, is a public suit worth it?
In this age of rapid media connection, bands have been hit incredibly hard with regard to violation of their copyrights, infringement of their trademarks, and misrepresentation of their publicity rights. Pick almost any band, type in its name in google along with the word "blogspot" and you'll likely find unauthorized downloads of the bands material or harmfully inaccurate information about them, or both. When bands see that their tunes have been swiped, or that someone on a blog is making up lies, their first reaction is often "We have to make this guy stop what he is doing at all costs!"
But, before proceeding with legal and other remedies, bands should ALWAYS stop an ask themselves, "What is there to be gained in a victory and is it worth the cost?" Indeed, I fell into a similar trap myself recently. The lead singer of a highly influential, but admittedly, not very famous, punk band expressed to me that he was disheartened that an album he had spent two years working on was poached just before the release date and posted without authorization across dozens of blogs. My first reaction was "They can't do that to you, [Antoine]! We'll file for injunctions tomorrow morning!" But, of course, [Antoine] was more levelheaded than I, and resigned to the bruises of modern music sharing, stating that he didn't think making a ruckus would really benefit the band that much.
Indeed, in the age of modern internet connection, even when a party is int he right, they can still end up looking like the "bad guy" because information gets dispersed so quickly and so inaccurately. Before suing filing an action, recording artists should consider how they will be effected by the media, even in the event of a victory.
It seems that Morrissey may have missed this step. Assuming that the UK judge allows the case to go to trial, doubtlessly, some of Moz's more infamous quotes will be brought up over and over again at trial an in the press, such as his recent comments about the Chinese, his opinion of KFC in comparison to child victims of mass homicide, and his habit of using skinheads (which might not be the nice kind of skinhead) as backdrops… just as I am doing here.
If Morrissey's true goal is to clear up his name, would a court victory change public opinion? Would the public say, "Oh, a jury decided that NME DID misconstrue Moz's statements, so I'll have to change my opinion of Morrissey myself!" Probably not. Rather, by filing suit, Morrissey's comments will be reposted ad infinitum and only harm his public perception even more, even if those quotes are in fact inaccurate.
On the other hand, Morrissey could be filing suit for the monetary compensation, which if he truly was the victim of libel, is compensation to which he is rightfully entitled. But, the calculation of whether to go to trial isn't simply based on how much one could be awarded. One need to also evaluate how mutt he trial will cost, how much time one will loose when dealing with trial matters, and most intangibly, how much the negative public perception from the trial will result in loss of revenue, even if one is victorious. Assuming that Morrissey wins millions in this case, his legal fees and damage to his public perception could quite likely make the suit a fruitless endeavor.
So, before a band that has had their rights violated acts out in anger, it pays to stop and think, just what is there to be gained and loss, even in the event of a victory at trial. Otherwise, one might find that by winning, one loses more than if one had stayed out of the ruckus altogether.
John Gentile is an intellectual property attorney by day and a punk rocker by night. In his spare time, he likes to try to avoid getting sued by Morrissey.