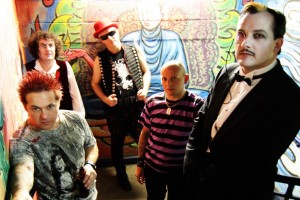 Seminal British punk band, The Damned have announced via their website that they are working with New York based film-maker Wes Orshoski, with a view to producing a feature length documentary about the band's 35 year history.
Much like the recent Lemmy documentary, focused on the legendary Hawkwind bassist and Motörhead frontman, the film is due to combine contemporary footage with archive material, along with clips of interviews with friends and peers.
Orshoski has invited longtime fans who are in possession of rare film or photographs, as well as fliers, posters, print articles and the like, to contact him via email at: info@threecountfilms.com
Orshoski had this to say about the project:

"I'm incredibly honored to be working with a band who I feel has registered as an immeasurable impact on artists from across the musical spectrum. I feel like The Damned's story and the scope of the band's influence has gone largely unnoticed by the masses, especially in America. And I'm hoping my film will help right that wrong."
Captain Sensible, by contrast, was rather more forthcoming:

"It seems like every other scumbag who was ever in a punk band got a film made about them, now it's our turn, and at least we have some real stories to tell. Hopefully, this will cause a bit of a stink, but that's what it was always supposed to do."
The band is marking it's 35th anniversary with a series of shows playing 1977's Damned Damned Damned, and 1980's The Black Album in their entirety. The tour is planned to reach Australia and Japan in 2012.
The Damned's most recent full length was 2008's So Who's Paranoid? on English Channel Records.
Click Read More for the tour dates.
| Date | City | Venue |
| --- | --- | --- |
| Oct 25th | Chicago,IL | Metro/Smart Bar |
| Oct 27th | Seattle, WA | Showbox at The Market |
| Oct 29th | San Francisco | CA, Slim's |
| Oct 30th | Los Angeles, CA | House Of Blues |
| Oct 31st | Anaheim, CA | House Of Blues |
| Nov1st | San Diego, CA | House Of Blues |
| Nov 4/5/6th | Austin, Texas | Fun Fun Fun Fest |
| Nov 9th | Bristol | O2 Academy |
| Nov10th | Birmingham | O2 Academy |
| Nov 11th | Cambridge | Corn Exchange |
| Nov 12th | London | Roundhouse |
| Nov 13th | Brighton | East Wing |
| Nov 14th | Norwich | UEA |
| Nov 15th | Nottingham | Rock City |
| Nov 17th | Newcastle | O2 Academy |
| Nov 18th | Leeds | O2 Academy |
| Nov 19th | Manchester | Academy |
| Nov 20th | Edinburgh | Picture House |