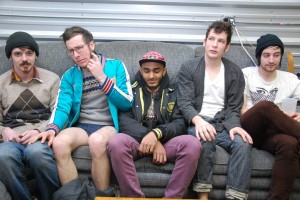 Oneonta, NY's Cattle Drums have posted two new demos on their Bandcamp page, entitled "Fattest Kid in the World Fights Grandma for the Front Seat" and "I'm Glad I Cut Off My Legs" respectively.
The band are presently recording their debut full length, which is due out in Spring 2012 on Tiny Engines.
Said full length will be the follow up to the band's debut EP, The Boy Kisser Sessions which was digitally released by Tiny Engines earlier this year and is available for free download with three additional tracks.