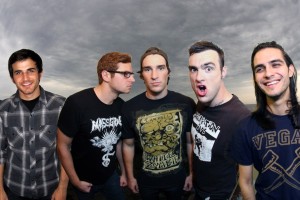 Jacksonville, FL-based band Casey Jones has announced their final tour together, commencing in January 2012, releasing the following statement:
"It's time for the members of Casey Jones to close this chapter with one last tour. Some of us will continue in music and some will not. Regardless, this band has always brought us happiness and been an escape from the outside world. It's been a voice for our honesty, our outlooks, and at times, probably most memorable, our humor. It's nice to have lasted 9 years and still get the same feeling of excitement at the end as the beginning. We hope our music has given you something to think about, laugh at or be angry about. We're stoked on the line up for this tour, there's a lot of diversity and something for everyone. All of these bands put on a hell of a live show, see you in the circle pit."
Death Before Dishonor, Hundredth, No Bragging Rights, and Boys No Good join them for all dates.
Casey Jones released their final album, I Hope We're Not The Last in January.
| DATE | CITY | VENUE |
| --- | --- | --- |
| Jan 12 | Richmond, VA | Kingdom |
| Jan 13 | Albany, NY | Bogies |
| Jan 14 | Montreal, QC | Underworld |
| Jan 15 | Toronto, ON | TBA |
| Jan 16 | Detroit, MI | Magic Stick Lounge |
| Jan 17 | Chicago, IL | Viaduct Theater |
| Jan 18 | Iowa City, IA | Blue Moose |
| Jan 19 | Denver, CO | The Marquis |
| Jan 20 | Ogden, UT | The Basement |
| Jan 21 | Reno, NV | TBA |
| Jan 22 | Seattle, WA | Studio Seven |
| Jan 23 | San Francisco, CA | Club Retro |
| Jan 24 | Lancaster, CA | Industry Theater |
| Jan 25 | Canoga Park, CA | Cobalt Cafe |
| Jan 26 | Fullerton, CA | The Anchor |
| Jan 27 | Las Vegas, NV | The Sanctuary |
| Jan 28 | Mesa, AZ | The Underground |
| Jan 29 | Las Cruces, NM | Las Cruces Event Center |
| Jan 30 | San Antonio, TX | White Rabbit |
| Jan 31 | Gonzales, LA | Red Door Saloon |
| Feb 1 | Mobile, AL | Alabama Music Box |
| Feb 2 | Nashville, TN | The End |
| Feb 3 | Columbia, SC | New Brookland Tavern |
| Feb 4 | Jacksonville, FL | The Pit |