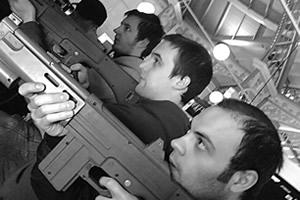 The long-awaited sophomore full length from Leeds punks The Dauntless Elite is now available to stream/buy from Bombed Out Records. The label describes More Bloody Bad News as follows:

The Dauntless Elite fully embrace their Northern roots, as Joe's Yorkshire accent chimes out at the start of "Saliva" there will be no mistaking that these lads remain the genuine article. No faux-American accents or Gainesville references here! What you do get is pure Elite: thought-provoking punk rock (though the lyrics have perhaps taken on a more personal slant this time around) and twelve songs that demand to be sang along to on a sweaty night in your favourite local - beer in hand and heart on sleeve.
More Bloody Bad News follow's 2007's Graft.