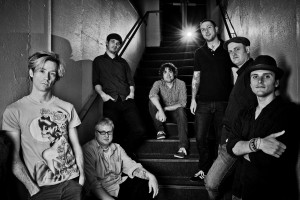 Following the release of their new video for "It's Raining Zombies on Wall Street," Dave McWane of Big D and the Kids Table spoke to AMP Magazine about the Occupy Wall Street protests and his reaction to the materialization of the song's lyrics:

"'It's Raining Zombies On Wall Street' – is a song about just that. It's a song about a people's revolution. Our revolution. Why Zombies? Because that how we are treated – mindless and inhuman. So when occupywallst came into fruition I was not surprised. However, when they literally dressed as Zombies, yes, I was pleasantly surprised. It was a funny moment on tour, to actually see a newscaster stating that – "Zombies have occupied Wall Street." And when the peaceful demonstration spread to other States and other countries I was proud the people woke up. Thank God."
You can read the rest of McWane's statement, as well as a statement from his bandmate Steve Foote, over at AMP Magazine.
The song comes from the band's latest full length, For the Damned, the Dumb & the Delirious, which was released in July on Side One Dummy Records.