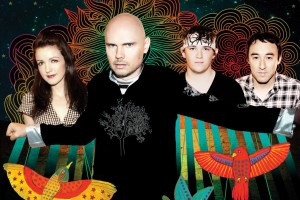 The Smashing Pumpkins have released more details for the upcoming deluxe reissues of their first two records, 1991's Gish and 1993's Siamese Dream.
The reissues feature the original albums remastered, and each will come with bonus discs featuring rare and unreleased tracks, as well as a live DVD of shows from the respective tours. In addition, the albums will include additional artwork and liner notes from Pumpkins frontman Billy Corgan. The albums will be available on both CD and vinyl. In addition, the albums will be available in 24-bit/96khz high fidelity digital for the first time. Both are due out November 29, 2011.
The band previously announced these reissues in the first of a series of deluxe reissues, comprising their pre-breakup catalog, due out over the next three years. They are set to release a new album, Oceana, but a date has not been announced.