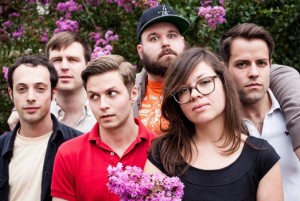 Spinner is reporting that the Toronto-based punk band Fucked Up has decided to go on hiatus. Abraham explains by saying that he's no longer able to tour, as doing so while trying to raise a family has become increasingly difficult. However, he won't confirm that he's quitting the band altogether.

"I can't tour anymore. I don't want to take that away from them, so I would love to find a way to basically make it into a constantly evolving thing where sometimes Fucked Up can go on tour and other times, it's another band involved with us. […] I have no idea how it's all going to work out. I know we're going to take this long break and hopefully we can think about it and figure it out a little more."
The band will fulfill their live obligations for the rest of the year, including a New York City show where they'll play their latest record, David Comes To Life, in its entirety for the first time.
You can read the rest of the interview, where Abraham goes into more detail, here.
Update: Damian has made it very clear on twitter that he is not quitting Fucked Up.