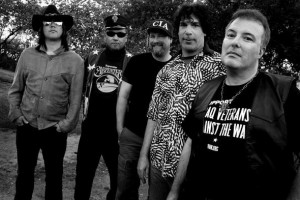 Following the cancellation of a planned Jello Biafra and the Guantanamo School of Medicine show in Tel Aviv, Israel, punk legend Jello Biafra has posted a lengthy article detailing his subsequent visit to Israel and his thoughts on the Israel boycott. Here's a short excerpt:

This whole controversy has been one of the most intense situations of my life--and I thrive on intense situations. But the rest of the band was not used to this. How fair was it to drag them in in the first place? This is not like fighting Tipper Gore and the LAPD, greedy ex-Dead Kennedys members or more-radical-than-thou thugs who think it's OK to put someone in the hospital for being a "sellout." I gradually felt like I had gotten in over my head sticking my nose into one of the longest and nastiest conflicts on earth. I'd gotten as close as I wanted to one of those Herzog movies like "Fitzcarraldo" or "Aguirre, the Wrath of God." A responsible leader does not go, "Hey, check out that big storm at the top of Mt. Everest. Let's go up anyway just to see what happens."

So with the roller coaster still in my stomach and my head, I flew solo to Israel instead. The mission: to check things out myself and hopefully at least get closer to some kind of conclusion on whether artists boycotting Israel, especially me, is really the best way to help the Palestinian people.
Jello Biafra and the Guantanamo School of Medicine released Enhanced Methods of Questioning in 2011