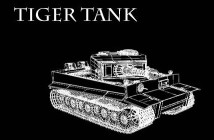 Ladd Mitchell, vocalist and guitarist of the now defunct Park, has announced a new musical project along with the band's former drummer, Miles Parkhill. The new group is called Tiger Tank, and they've also set up a Kickstarter campaign to help fund the recording of their debut EP. Ladd explains:

"When Park broke up in May of 2007 I began receiving a great deal of fan mail asking whether or not I was going to continue a musical career by starting or participating in a new project. After 4 years of reading such mail I decided it was finally time to heed everyone's advice and begin playing music again. Tiger Tank is very reminiscent of Park but has it's own personal edge while staying true to mid-west indie rock scene which I fell in love with while growing up in Springfield, Illinois."
Park last released Building A Better ______ in 2006 before calling it quits in 2007.