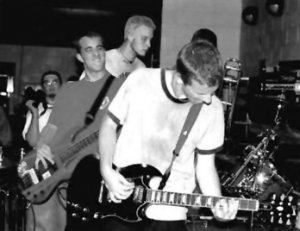 In an interview with ThePunkSite.com, Dan Andriano (Alkaline Trio / The Emergency Room / Tuesday) talked about the possibility of a future Slapstick re-union after they played together again at Asian Man Record's 15th anniversary show earlier this year:
"I think it will happen again, I mean we talked about it. If I'm not mistaken, we actually had an opportunity to play in Chicago this fall, but I am going to be in Europe with this Revival (Tour) deal. Unfortunately, we could not do that, but [another reunion] is not off the table. We all had a lot of fun and it is definitely not out of the question. I would like to make it happen again at some point."
He also talked about the weekend itself saying:

"Oh man, so fun, very priceless. It kind of ruined me for the week. The whole deal was in San Francisco, and our friend Mike [Park] was having a 15-year anniversary celebration for his label, Asian Man Records, that we have all been a part of in some way. Slapstick played the first night, which was a Wednesday. I got there on Monday and started rehearsing with Slapstick. Monday and Tuesday we rehearsed, but it was just non-stop drinking and catching up with old friends. By the time that show happened Wednesday night, my voice had already blown out. We were rehearsing in someone's garage that Mike Park knew. Really nice people, but barely a sound system, so straining to hear yourself and make sure you are singing the parts right… I totally blew my voice out. Alkaline Trio played the next night, and then I played by myself very late Friday night, so by the time that show happened, I was wrecked and exhausted. It was pretty much my wife and I, and Brendan (Kelly) and his wife walking around San Francisco drinking Irish coffee and beer for five days. It was just that kind of reunion vibe, so it was awesome. It was very fun, but exhausting."
Dan Andriano in the Emergency Room is currently supporting 2011's Hurricane Season.
Slapstick haven't supported 1997's Discography in quite some time. Apart from that one show, but you just read about that.