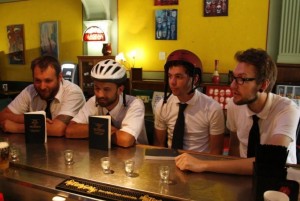 It hit everyone by surprise, when 10-4 Eleanor changed their name to Elway last year. It surprised John Elway, NFL Legend and Hall of Fame Quarterback, the most but the Ft. Collins quartet weren't scared. Earlier this year they released Delusions, their Red Scare Industries debut and an early contender for Album of the Year. Punknews Interviewer Justin Dickman chatted with Vocalist/Guitar player Tim Browne about the (John) Elway issue, the fine cuisine of Chicago and a little about Fest.
When you took the surname of Elway, did you ever imagine things would turn out like they did?
I have to laugh a little when I hear people say things like, "They totally knew this was going to happen, it was a move of marketing genius." I wish I had that kind of foresight! We didn't know that stealing a well known surname would turn into a national PR fiasco. Our thought was that in Colorado, the name Elway galvanizes people, it's something that people attach some very specific and lame connotations to. We wanted to add to that list of lame things, I suppose.
Now, when you were issued the request to change your name, how did it feel?
At first, I was a little panicked, thinking about the logistics of possibly having to change our name again. The letter that we got from Elway's lawyers was long and dense, and used all kinds of intimidating legalese. When I first contacted Toby about the email, my reaction was just kind of "Shit, dude! What do we do?" After the initial wave of panic and getting some legal advice, we resolved that this is actually hilarious and people needed to know about it.
You were on tour at the time?
Yeah, we were in Toronto at the time. Perfect, considering we were going to be in Canada for 5 days with no phone and limited internet access.
Once the news hit the internet, spread amongst numerous sports blogs and making it's way to the front page of Yahoo did you notice more people coming out to the shows?
Once the news really grabbed the story and ran with it, we were on the home stretch of our tour. I think we had 4 or so shows left. Most of those shows were pretty standard 30 person, club or basement shows.
Did you by chance read any of the articles or comments?
For the first few days, I tried to keep up with what everyone was saying and everything. Like any popular news item on the internet though, the peanut gallery was as rife with idiotic bullshit as it was with little bits of comic gold.
My favorite comment had suggest that you strike a deal with John Elway, that if the Broncos win at least 10 games you'd consider changing name. Does that sound like a deal to you?
Nah, dude… I don't give a baker's fuck what John Elway or the Broncos do. Shit is here to stay.
Another suggested changing the name to Horsehead and using Elway's silhouette on the bass drum. Thoughts?
I much prefer staying the course of ignoring every one of the dude's accolades and just sort of moving on with our lives in this shabby operation of a band. It's much more fun that way.
I've noticed that Elway has been going to Chicago a lot lately. Is Chicago your kind of town?
We love the shit out of Chicago. It is my personal favorite city in the country. In the past year, we have made some really awesome friends out there, and we go to stupidly absurd lengths to get out there as often as possible.
When you go on tour to new spots, do you do the "tourist" thing?
Yeah, man. Playing shows is only really half the fun of being on tour. There is no fucking way the dudes in this band would be able to travel all across the country otherwise, so when we do get to see new places, we try and see as much of the touristy stuff as possible. It blows my mind when you hear about bands that tour around and just stay in the van/apartment/hotel/shitty punk house all day. You gotta get out there and find the cool smut shops and burrito joints, god damnit!
Have you tried a Chicago Dog or an Italian Beef yet?
We're all vegetarian, so a lot of Chicago's meatier cuisine is lost on us, unfortunately. But I've had a hot dog with all the Chicago dog stuff on it. Does that count? I don't think there's a acceptable vegetarian substitute for the Italian Beef though…
Have you found any hidden gems?
As I broached earlier, Elway is all about burritos and vegan restaurants, and so the most important "side-quest" (sorry) of being on tour is to find the best burrito and vegan food. So far, Grasshopper in Allston, Massachusetts and Veggie Heaven in Austin, Texas are home to the best vegan cuisine we've ever encountered. And the best burrito goes to Horseman's Haven in Santa Fe, New Mexico.
Have you checked out any of the "punk" bars?
We usually play them, dude… So yeah! But we've hung out a bit at the L&L in Chicago. They have the best jukebox in the world, and shit is free! Generally, we seek out places with $1 Schlitz or Busch Light like some pack drunk, shitty blood hounds. So yeah checking out "punk bars" isn't so much of a hobby as it is part and parcel to our hopelessly misguided lifestyle.
Are you excited to be playing The Fest this year?
To quote Magneto: "Why do you ask questions to which you already know the answers?"
Do you have anything special planned?
We thought about dressing up like RVIVR, but we didn't want to be painted misogynists. We may think of something between now and then that will be comparably as ill-advised and unfunny…
Is this your first time playing in Florida?
Nah dude, this will be our 6th show in Gainesville. We played the Fest last year and it was crazy as hell, we're looking forward to getting back!
Who are you most excited to see?
Shit man, the list could go on forever. I'll go with The Holy Mess. There are tons of bands, but I'm most excited to hang out with friends from all over!