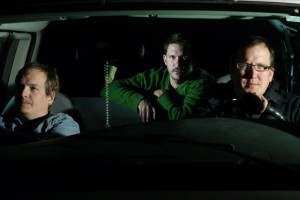 Cursive will be releasing their follow up to 2009's Mama, I'm Swollen on February 21, 2012. Titled I am Gemini, the album was recorded at Omaha, NE's ARC Studios and mixed at Red Room in Seattle, WA with producer Matt Bayles (Mastodon, Minus The Bear, Isis.)
While the album is a concept record, like many of Cursive's previous albums, it differs in that:

[It] marks the first time front man Tim Kasher, holding the completed story already in mind, wrote album lyrics in a linear fashion, in order, from song 1 to song 13. The result is thirteen singularly cohesive song chapters that blend effortlessly into one unique narrative. The moody and playfully sinister I Am Gemini is Cursive's musically heaviest in years, with alternately muscular and angular guitars, pounding drums and driving bass.
This House Alive
Warmer Warmer
The Sun and Moon
Drunken Birds
Lullaby for No Name
Double Dead
Gemini
Twin Dragon/Hello Skeleton
Wowowow
This House a Lie
The Cat and Mouse
A Birthday Bash
Eulogy for No Name