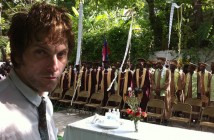 It's hard to put together a better rock n'roll resume than that of Tommy Stinson's. After helping form The Replacements at the ripe age of twelve years old, Stinson served as the sole bass player of the band until its ultimate demise in 1991. Since then, Stinson has worked on various projects and--perhaps most notably--he has been holding down bass duties for the ever-mercurial Guns N' Roses. Stinson also tours and records with alt-rock vets, and fellow Minnesotans, Soul Asylum. This past summer, Stinson recorded a solo album chocked full of alt-twang power pop titled One Man Mutiny. Punknews' interviewer Michael Dauphin recently caught up with Stinson as he was popping in and out of shops in his newly-adopted town in upstate New York to discuss his new album, his charitable endeavors, and, of course, The 'Mats and G N'R.
At this point in your career, with all the music you've released, was there something you were hoping to capture on One Man Mutiny that you haven't been able to accomplish in the past?
Really, it's a whole new thing for me. From putting it out on my own, and trying to use that to kind of bring awareness to the Timkatec Schools in Haiti, which is a trade school that I will sponsor for the rest of my life. My only goal was try to make it all work out where it's a winning prospect. I don't see myself trying to get another record deal again because I think they're pretty useless with that. I have to try to figure out, how do I do this? Where do I put my efforts and my money into promoting my record and getting more people to hang onto it and make it a success?
The new album sounds like a loose affair, but you can tell there was some serious thought put into the production and arrangements. Are you a perfectionist in the studio, or are do you like to just let the tape roll and see where you end up?
You know, it depends. Certain things require more work because there's a vision behind them. Then other things just come out naturally and it's like, "wow, that's already writing itself." A song like "Meant to Be" kind of wrote itself, but really took some time to come up with the right melody behind it. That one got to ferment a little longer, ya know. But it's all different. I don't have any one way of doing anything.
I wanted this record to feel kind of loose so I'm glad you brought that up. I have to do all this stuff on my own in the studio and I tried not to do everything to quick tracks. There was more of an ebb and flow. I don't like that stringent, overproduced sound. I still want it to feel like a band, and more than me just playing in a room with a bunch of machines.
Was recording this album a bit of a breath of fresh air after how much time you spent recording Chinese Democracy with Guns N' Roses? Was there a conscious effort to counter that process?
You know, it was in a way. It wasn't something I sat and thought about a lot. It just sort of happened to be the way I like music. That's how I do it, on my own.
I understand the title track, "One Man Mutiny," was inspired by a night on the bus with G N'R where you ended up kind of refereeing a fight between some of the band members. Do you find yourself doing that a lot, or do you just try to hide in the background?
It was actually some playful drama. It was more of a funny inner-bus deal. It had more to do with guys getting cranky because they were tired and had to get on the bus to do shit. And I got dragged into their little fight and I was like, "No, no, no. If I gotta fucking dispute, man, I'm a one man mutiny." And that's where the song came from.
You mentioned the work you have been doing with Timkatec Schools in Haiti. A portion of the proceeds from the album are going to the school, right?
Yeah, it's a trade school for abandoned and homeless kids. They have been there for ten years. Many of these kids otherwise had no future at all and this school gives them a chance to have a future. Sadly enough, hopefully their future will be rebuilding their country, which I think will be a huge undertaking. But they will certainly have the skills to do it when they graduate, whether they're a plumber, electrician or even a tailor.
How did you get involved with this endeavor?
A friend of mine, Luke Klien, who runs Kids of Kadiogne outside of Senegal, I knew him in Philadelphia and he hooked me up with a guy who lived in Haiti during the earthquakes. Eventually I was hooked up with the right people to get into Timkatec and I went down there and saw what was going on. I made an auction and put up some suits and guitars and shit like that I had sitting around; got Duff [McKagan] (Guns N' Roses) to sign some stuff; got Paul Westerberg to sign some things; and I had an auction to try to raise money for them. And after that, it turned into this huge thing and it was a huge experience. From the moment I got down there, til we had the auction, I knew it was something I needed to do. And it's something I plan on doing one way or another.
You have been playing with Soul Asylum for a few years now. And I know you guys came from the same scene in Minneapolis. But do you find it funny that after being such an influence on them when they were coming up, you are still younger than all of them?
Yeah, it's a funny stint because I have known them since high school. And they're good guys. For all purposes, it's pretty easy. We all came from the same background in music, so it's easy to get in their heads on that level. But the familiarity of knowing these guys forever makes it easy.
I know you recently played Taste of Chicago with Soul Asylum. Was there any weird vibes for you to play that show considering The Replacements final gig ever was at that same event twenty years ago?
You know, I realized it kind of last minute. I was like, "Holy shit. This is where we fucking broke up," or walked away from it, whatever you wanna call it.
I imagine it was an easier bus ride out of there?
Oh yeah. But, you know, we played and we had fun without anyone losing any limbs.
What do you remember from some of those earliest Replacements practices after you and your brother Bob brought Paul Westerberg in to sing?
For an early part of that run, once we started playing actual clubs and writing songs… In my little baby mind, I remember thinking that things were starting to pick up and things were actually happening. We were playing clubs, and then they started filling up. It all moved pretty quickly. It wasn't that long before we started selling out little clubs. In my little pea brain, I started thinking of all these lofty aspirations of being a rock star. Especially at my age at 14, 15, 16 years old. It got to be like, "shit this could actually turn into something!"
Do you think your career path in rock n'roll would be any different had you started in your 20s like most musicians do? Were you better off being young and not knowing better?
I can't even imagine that. I had been in this fucking business for almost ten years by the time I was 21. That was a lot. I started making money pretty early on. I had my own apartment by the time I was 17. I learned a lot really early on. I don't think I could trade that in.
You have been in bands with Axl Rose and Paul Westerberg—both have very strong personalities, I gather. Is it weird when you're in a room working on your own and you get to call your own shots?
It's a fucking hell of a lot easier, I'll tell you that. You know what: they are both very strong personalities. There are certain peccadilloes with each, but they are also pretty similar in certain ways. No one really ever tells me what to do at this point. I always kind of go by my own guidebook. Luckily, I show up and do what they want so it all works out.
How are those two artists similar in ways?
They are both very serious and maybe read a little too much about what people say about them and think about them. I think they both carry a significant amount of baggage and they could really improve their quality of life by just letting go of it.
Seeing them operate, does that kind of you educate you or effect you as far as how you handle your business as a solo artist?
I just try to learn from exactly how they do it so I don't get caught up in it.