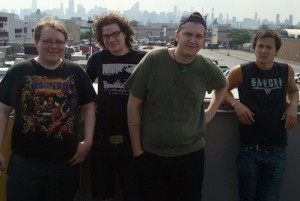 Our stream today comes from Minneapolis, MN-based The Manix. We've got a stream of the band's new full length, Neighborhood Wildlife, which is due for a December 27th release on vinyl via It's Alive Records and on CD through All For Hope Records.
You can check it out on their Punknews.org Profile
The Manix will also be heading out on their first west coast tour later this month, the dates of which can be found below.
| DATE | CITY | VENUE |
| --- | --- | --- |
| 11/25/11 | St Louis, MO | TBA |
| 11/26/11 | Oklahoma City, OK | The Parkdownthestreet House |
| 11/27/11 | Denton, TX | J n J's Pizza w/ Stymie |
| 11/28/11 | Midland, TX | The Pine Box w/ Autistic Nun |
| 11/29/11 | Las Cruces, NM | The Trainyard |
| 11/30/11 | Tempe, AZ | Yucca Tap Room |
| 12/01/11 | Las Vegas, NV | The Double Down |
| 12/02/11 | Pomona, CA | V.L.H.S w/ Dead To Me, Rumspringer, Turkish Techno, and Good Men Die Like Dogs |
| 12/03/11 | San Diego,CA | The Till Two Club w/ Dan Padilla, and 2 more TBA |
| 12/04/11 | Los Angeles, CA | Redwood Bar and Grill w/ Pu$$y Cow and More |
| *12/05/11 | TBA | TBA |
| 12/06/11 | Bakersfield, CA | Matty's House with Black Sails Western Shores (Early Show 5PM) |
| *12/07/11 | Bay Area | TBA |
| 12/08/11 | Concord, CA | The Red Hat w/ Civil War Rust |
| 12/09/11 | Berkeley, CA | 924 Gilman w/ Whatever That Means (Korea), Gnarboots |
| 12/10/11 | Portland, OR | The Know w/ Fools Rush |
| 12/11/11 | Seattle, WA | Galway Arms w/ Success! |
| 12/12/11 | Everette, WA | Tony V's Garage w/ TBA |
| *12/13/11 | TBA | HELP! |
| *12/14/11 | Montana | Wherever |
| *12/15/11 | Montana | Wherever |
| *12/16/11 | Denver, Colorado | Wherever |
| 12/17/11 | Laramie, WY | 3rd St Cowboy Bar |
| 12/18/11 | Omaha, NE | Shamrocks w/ DSM5 and TBA |