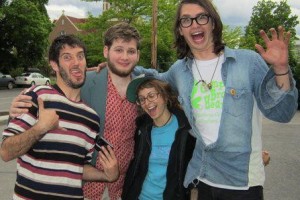 Portland, OR's The Taxpayers will be embarking on a west coast tour for the month of December before Rob Taxpayer heads off to grad school to become a pre-school teacher. Dates with The Wild and The Disregardables will follow in Janurary. We'll keep you updated on those dates once they surface.
A special tour-only EP will be available throughout the tour featuring unreleased Taxpayers material and b-sides.
The Taxpayers last released To Risk So Much for One Damn Meal in 2011.
| DATE | CITY | VENUE |
| --- | --- | --- |
| Saturday, Nov 26 | Portland, OR | Alpine II Laundry Mat w/ Lee Corey Oswald and Walter Mitty & His Makeshift Orchestra |
| Wednesday, Nov 30 | Olympia, WA | TBA |
| Thursday, Dec 1 | Southern Oregon | TBA |
| Friday, Dec 2 | Berkeley, CA | Gilman St w/ Street Eaters, Landlord, Androgynous Elk, Boats, and Rock n Roll Adventure Kids |
| Saturday, Dec 3 | San Francisco, CA | TBA Cool Guy Party II w/ Wild Moth (ex Koalacaust) and Party Bomb (ex Shaky Bones and Phantom Vibarations) |
| Sunday, Dec 4 | Mountain View, CA | Dana Street Roasting Company (744 W. Dana Street) w/ Beaus & Aeros, This is a Robbery!, The Thursday Butterflies and The Amy Lynns |
| Monday, Dec 5 | Santa Cruz, CA | Sub Rosa Infoshop w/ Quick Attack |
| Wednesday, Dec 7 | Santa Barbara, CA | Sorry Virtues (777 Camino Pescadero) w/ Quick Attack and Hi Ho Silver, Away! |
| Thursday, Dec 8 | Los Angeles, CA | The Grape House (1314 West 35th Place) w/ New York Taxi and Alexander The Grape |
| Friday, Dec 9 | Pomona, CA | VLHS w/ MANAHATTAN MURDER MYSTERY, Hands Like Bricks, and American Lies |
| Saturday, Dec 10 | San Diego, CA | Che Cafe (benefit show for Che) w/ Grim Luck, Joyce Manor, Watercolor Paintings, Roman Candles, Ben Levinson, Kids, and Sledding With Tigers (THAT's A LOT OF BANDS!) |
| Sunday, Dec 11 | Phoenix, AZ | The Trunk Space w/ Haymarket Squares |
| Monday, Dec 12 | Tucson, AZ | Dry River Collective w/ Ramshackle Glory and Dr Dinosaur. |
| Tuesday, Dec 13 | Las Cruces, NM | The Trainyard |
| Wednesday, Dec 14 | Lubbock, TX | TBA |
| Thursday, Dec 15 | Fort Worth, TX | 1919 Hemphill w/ People Men (their last show!!) and Wife & Kids |
| Friday, Dec 16 | Austin, TX | Ma & Pa's Place (1503 Elvas way, Austin, TX) |
| Saturday, Dec 17 | San Antonio, TX | The Bmore (315 Baltimore) |
| Sunday, Dec 18 | Houston, TX | Vinyl Junkie Distro (4202 canal st) FOLXMAS FEST, 13+bands! |
| Monday, Dec 19 | New Orleans, LA | Check Point Charlie's (21+, sorry) we're trying to setup an all ages show later in the week!!! |