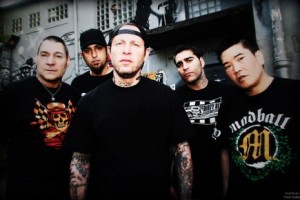 Agnostic Front is tearing through the country, touring on the heels of their new album My Life, My Way. Punknews interviewer Jason Epstein got a chance to speak to the NY hardcore legends bassist Mike Gallo in their hometown near the Lower East Side recently. They talked about New York, hardcore memories and aging legends.
Agnostic Front sings about NYC all the time. Does NYC always provide you with your best shows?
I can't honestly say that. They're usually always fucking good you know? But I've gotta say some of the craziest shows we've ever done have been in South America. They don't get it as much you know? But when they do they fuckin' bring it.
Do you get over there often?
We do, we try to do go there every couple of years. I'd say they get the most hard out there. They take the cake.
Do you have family?
New York Hardcore family! Nah, I don't have a family.
How do you balance the touring life with the home life?
Basically it never ends, but [family-wise] it's different…Roger…he's got kids you know? So, what we do is we try to break up the touring as much as possible. This way Roger can go home and see his kids and so can Vinnie. We'll do 2 weeks here, 2 weeks there. When we go to Europe we usually do about a month, but we don't usually do more than that so they can go see their families. Me, I don't have a family. The only family I have is New York Hardcore family.
Can you remember a specific time or moment when you realized that the hardcore lifestyle was what you were going to live for the rest of your life?
Absolutely. You know what to be totally fucking honest with you…it was like early..mid-nineties I went to go see Murphy's Law and I just remember sitting back and watching them and being like, "this is what I fuckin' want to do. This is where I belong. This is the most amazing thing I've ever seen." I've never felt so part of something and just…you know when something is for you? I never felt something like that in my life until then. That was it. That moment [of] just watching them onstage, watching their energy and just the unity of everything was amazing. That's what really set me off.
What's Agnostic Front going to be like when you guys are 60?
Well when I'm 60 if they're still alive, wow…
How old are you?
I'm 36 now.
Ah yeah, they're older.
Yeah, they're a lot older. I don't know how much longer we're gonna do it. We'll do it as long as people want to see us. It gets harder especially when Roger has 2 kids at home. It's not that easy. We have to sacrifice a lot being in a band: can't get a steady job…you know it's crazy but who the hell knows, hopefully we'll just still be known as legends of New York Hardcore scene and we just put out so many records there's only so much we can do.
What's your most hated interview question to answer?
I hate when people ask what my favorite band is because you know what, honestly, I don't think I've eve had a favorite band, I've always had a love of the NY hardcore scene. It's hard for me to say what my favorite band is, I've never had that one band. A lot of people have that but I've never had that one favorite band. I had that one moment that we spoke about, I wouldn't say they're my favorite band but…I guess I just don't have an answer for that.
How much do you contribute to the songwriting?
Honestly, I write a lot of music. I wrote most of this last record and I helped with the one before it, Warriors as well. Basically all of us just write as many songs as possible. I put a lot into it this last time I just got in the zone and pulled a couple of good ones out of my ass. That's basically the way it went you know. I had my other band, On The Rise, that I wrote for [before Agnostic Front]. I've been doing writing all my life, it's my biggest passion.
Do you have any other passions?
Music is my main one absolutely. I don't know if I really have another passion for anything else besides that. [Music] is my main focus.