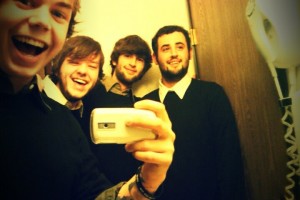 The 1st Five is reporting that Houston, TX based O Pioneers!!! are calling it quits. Frontman Eric Solomon released this statement to the website:

O Pioneers!!! should have ended a long time ago. I started this band in the fall of 2004, and it's slowly changed and migrated into what it is today, based off of the millions of people that have been in this band. I got tired of trying to con people into playing songs that they liked, or may have been a fan of, but ultimately they didn't have a connection with, besides something that was at face value.
In light of the break-up, the band has released their entire discography as a pay-what-you-want download, which you can check that out at Juicebox Recordings. The band's last full-length, Neon Creeps, came out back in 2009.
Fans of band's work should keep an eye out for their new group, Black Clouds, which Solomon expands more on in his interview with The 1st Five here. O Pioneers!!! will do one last US tour this winter with New Bruises, and plan to play Europe in the spring.
| DATE | CITY | VENUE | DETAILS |
| --- | --- | --- | --- |
| 11/26 | Long Island, NY | East Setauket VFW Hall | w/ New Bruises, Iron Chic, Fellow Project |
| 11/27 | Allston, MA | O'Brians Pub | w/ New Bruises, The Fake Boys, Building |
| 11/28 | Montreal, QC | L'Esco | w/ New Bruises, Tightrope, Laureate |
| 11/29 | Toronto, ON | NCJT Records | w/ New Bruises, Attention |
| 11/3 | Northumberland, PA | Daddy McFatts | w/ New Bruises |
| 12/1 | Hoboken, NJ | Maxwell's | w/ New Bruises, Latterman, The Fucking Cops |
| 12/2 | Wilkes Barre, PA | Redwoods Arts Space | w/ New Bruises, Tigers Jaw |
| 12/3 | Philadelphia, PA | The Crystal Palace | w/ New Bruises, Attention |
| 12/4 | Richmond, VA | The House of Abe | w/ New Bruises, Sundials |
| 12/5 | Asheville, NC | The Get Down | w/ New Bruises |
| 12/6 | Atlanta, GA | Wonderroot | w/ New Bruises, Zac Hobbs |
| 12/7 | Tallahassee, FL | The Farside | w/ New Bruises, |