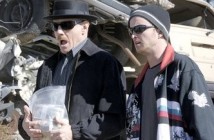 Another former member of (former) Fat Wreck Chords outfit Love Equals Death has run into problems with the law. Vocalist Chon Travis, who left the band in 2009, was arrested reports the Ukiah Daily Journal. According to the report, Travis was driving on a suspended driver's license and was apparently under the influence of meth at the time. The officer found more than 11 grams of meth inside the car.
Chon was booked into Mendocino County Jail on for possesing and transporting methamphetamine for sale, and for being under the influence of a controlled substance. For his part, Travis has responded and is denying the accusations:

I made the front page of our local paper on planted evidence and false accusations. [The officer] accuses me of trafficking and lying about my whereabouts on the night in question. The one time I try to cooperate with police, they fuck me. [The officer] was once someone who had integrity, someone to confide in, and I had to really search for it that night. If I do anything, I reap the rewards or pay the price either way. This is not my work.