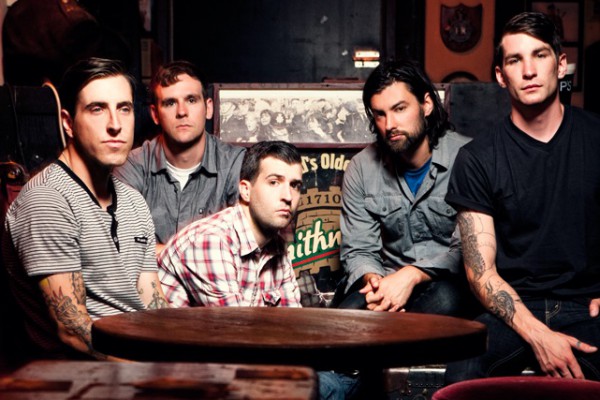 Well over halfway through co-headlining a tour with Bane, Defeater certainly gives no indication that touring takes a toll on what happens on stage. After playing to a packed out, little venue in Nashville, TN on Veteran's Day, lead singer Derek Archambault stepped outside of The End's jam packed space to give Punknews' Copy Editor Amelia Cline, some insight as to what it is to tour non-stop, be featured on NPR, what Veteran's Day meant for them and what the next few months will bring for the best Hardcore band that's presented itself in years.
So, obviously you guys have been on tour with Bane for almost a month now, right? You're coming to the end of it, how has that gone overall so far?
It's been absolutely amazing. Every night, getting to see Bane is like reliving my High School years…everyday. They're an amazing band, they're inspiring, like, I don't know, just watching them play keeps us motivated to still give it 100% every night. The ole' 110%! Dead End Path and Miles Away are on the tour too, which is just amazing cause we got to tour with Miles [Away] in Australia, and they took us out for three weeks, and they're just the best dudes. Super nice and also great to see every night. We didn't even know Dead End Path at all, seen them once before actually, Touche/Title Fight tour, thought they were great but again never heard of them at all and they turned out to be amazing guys. Their singer, Uriah, is the biggest sweetheart.
And now, after this you guys are actually going to be hooking up with Every Time I Die for a UK Tour, right? How on earth did you get added onto that?
Thaaat was kind of like, well we actually just got a booking agent and a manager after we put out the last record [Empty Days and Sleepless Nights] and our Manager, Chuck is good friends with the people at Rock Sound and ETID was actually looking for band's to go out with for the Rock Sound Tour or maybe vice versa or something, and we came up plus Spycatcher and Trash Talk got added. It's such a great package, every band on that is rad. I haven't really listened to ETID in like 6 years BUT, Hot Damn was a great record and Trash Talk is fucking phenomenal live. They are one of the most energetic bands and Spycatcher is rad.
Yeah, I was going to ask, what is a Spycatcher?
They catch spies. They're British guys who catch spies. Period.
Amazing. So, you also got to meet up with Steven from Punks In Vegas who's an awesome guy all around, to do a Stripped Down Sessions with him. How'd that go?
*laughs, Ummm, it went alright except that I blew my voice out. Reallly bad, so, it took like a good like three tries to be able to sing. And I started getting sick then, which passed quickly but I sounded like a frog at first. Which is appropriate because I'm French-Canadian.
You also played a few Alcoa songs during that Session, right? Which is your solo project? Elaborate and inform us all.
Yeah, I like, never do anything with it. Today though, I played an acoustic set at Grimey's (Nashville record store) and it was amazing. It was the first show I've played in almost two years. Well, not two, more like a year. But, I just don't ever do anything with Alcoa cause I'm lazy.
Ah, I see. Well, it's Veteran's Day and there were a few songs that you played during tonight's set that you dedicated to the individuals serving overseas, back here at home and of course, our Veterans. Your set was great, but what was your backing behind bringing up Veteran's Day, playing and what does it mean to you to be playing today? Your songs, album progression - all seem to have a bit of a military-charged stance to them.
Yeah, I mean we absolutely try to keep politics out of it. As much as possible at that but, as far as the story goes there's a lot of military themes. Actually tonight, we have friends here that we've met through all different parts of the country, like this kid Pat who I met in Albany when we were doing our Fest run last year, and we sat/talked for an hour and a half. He's just an amazing kid all around. There's kids from hundred and first here tonight, Fort Campbell and Pat and his buddies drove 10 hours from their Fort. It's definitely an honor to be playing on Veteran's Day especially to these kids who we've met, including the one's we've met today. Just being able to play for them is the most flattering thing in the world, when someone who's enlisted and has seen more shit than I will ever see in my life comes up to you and says, "Your record helped me get through a tour." You just can't ask for anything better than that.
Defeater actually made a shirt for the Wounded Warrior Project where all the proceeds went straight back to the organization, correct?
Yeah, we did that shirt for WWP, which helps directly support soldiers who suffer from PTSD. Like, if they do get wounded in battle, the second they're out of post-op they get a little care package with some amenities. They are counselors, therapy and there are just people who have come from WWP and are now working with them. We got a great response from Soldiers who have been in it and know of it, but a lot of kids still that we're some crazy, right-winged-Pro-War band, which is not the case at all. But, I guess people just didn't look into the actual project, to see what it is all about and what they're actually there for. We're not giving them money to buy guns, we're trying to help the individuals not the entire war.
Absolutely! SO, I've got to ask, what was it like having your video for Empty Bottle premiere on NPR?
That's again, soooo flattering. I have no idea why they agreed to do that.
While on topic of the video, we saw the "why" aspect but why did you go the direction of the video versus portraying what was actually happening in the song?
Well, that was more of Rob's vision for it. Our director, Rob Soucy, he's a really good friend of ours. He's actually our bass player's (Mike) really good childhood friend. He actually wanted to do like a mini-movie when we put out Lost Ground, like for the first three songs, but there wasn't enough time and money to put it together. So for this video, he wanted to put a different spin on it where the bar was actually the character rather than "here's Derek with some…broad." A sappy love story, all that stuff and I think that the way he did it was absolutely perfect. All the people in the video, Miles Away, my barber, my co-workers at the record store I work at…it's great. All of our friends and Family, Rob's Dad is playing the bookie in it, and the bartender in the video is actually the real bartender at the bar, also one of my closest friends. My tattoo artist is even in the video. Yeah, it was rad. I think we made a good choice by not just telling the exact story within the song. The end of the record, the acoustic stuff, it's a whole other take on different songs from other albums too. Almost like a first-person account of songs from Travels. We always try to put it a new spin on things, even though that sounds kind of cheesy.
From my different jobs and experiences throughout this scene, I've heard the word "refreshing" in the same sentence when someone describes your band and I've even heard Defeater as being dubbed, "the best band in hardcore in a few years."
That's amazing. It's not true but that's amazing that people say that. I mean, we really didn't think this band was going to last as long as it has. We thought we would put out Travels, people were going to laugh at us and that'd be it. It was like, to come this far and to be able to tour with bands like Bane, everyday is literally the most flattering thing cause you just meet all of these incredible people. I feel like it's a complete role reversal from where I was at 17, going to hardcore shows, or punk shows and going to see bands again, like Bane or Converge, Saves the Day. I mean, I was so spoiled going to shows in Massachusetts because every weekend, there was someone coming through. Like, there was a space I went to all the time in Providence I think…well, I don't fucking remember. That was like 13 years ago but at that space is where I saw Kid Dynamite and Saves the Day. Maybe Providence? Anyway, I'm terrible at telling time, there's no telling when that was.
And, I did mean to ask Jay this but, he got to work with No Trigger who hasn't released a full-length in almost 6 years now. Do you have any knowledge as to how that went?
Um, I know that it did go really well. Like, he said they were super easy to work with. They're all great musicians and the new record is going to be great. It's going to be good to see them put out a new record, obviously it's been like 6 years, or something like that?
Right. They released that 7" in like '07 or '08 but that's all I remember. Anyway, you guys also played Fun, Fun, Fun Fest. Were there any bands that were notably awesome to you? Danzig was there but who stuck out the most?
From Ashes Rise were incredible. I hadn't sent them in almost 10 years and the last time I did they were with Paint it Black and Strike Anywhere when they were on tour and that was the last time I ever thought I'd ever get to see them. Paint it Back was fucking amazing, we missed Trash Talk because they got bumped to the next day, got to see M83 who's one of my favorite bands, Cold Cave who were fucking great, weird to see Wes like that but that was a brilliant record. Oh, Touche Amore, at the Fest were good but the night before that they played a show with Piano's Become The Teeth, Riley's band, DEP, MA and it was rad. Touche's set was insane.
Jeremy's stage presence is amazing. Their set at The Fest in Florida was absolutely incredible also. I'm blown away every time I see them.
I don't know how he does it. He's like a little spider monkey! At FFF Fest, he like, at the end of Honest Sleep he climbed up onto the speakers out of no where and was just perched up there on the speaker. When he was on the Dead End Path tour, he just climbed on top of the speakers again to where the balcony was and was just hanging over the entire crowd. Just like, "how the fuck did he get up there??" He's just on top of everything.
Did you catch Cave-In?
We missed them because we had to leave due to an extra long drive, missed Kid Dynamite. Still to this day one of my favorite bands of all time!
So to close out, the end of the year is coming up way quicker than anyone really expected it to but, obviously you guys had a great year so far. What's 2012 looking like for you? Touring?
Probably not a new record, we don't really write until we're down to the wire. And we're like, "oh we should probably put a new record out."
That's a complete surprise to hear.
It's like, having Jay with his studio, we can just work at the house. Stick Andy in the live room and just play off of whatever he improv's. Which he did a lot of for the new record. Jay built off of that and vice versa. Then they piece together these little bits of songs and turn them into whatever the record is going to be. I mean, we're trying to plan a little bit and play Groezrock. I really wish we could have played this year because I've never seen the Descendents.
I think that was the show that Milo's voice got real cracked out during his set, he got a little frustrated and it wasn't quite what he wanted the set to be.
That was the set where he had a bunch of people singing with him, right? My friend, Al who plays in Dropkick (Murphy's) was like, "Yeah, I got to sing Descendents songs the other day." And I was jealously like, "OH, that's fucking rad. Thaat is fucking rad." We're trying to put together some sort of plan but it's usually just by the seat of our pants. Like, we need to make up the dates that we missed on this tour and then I have no idea.