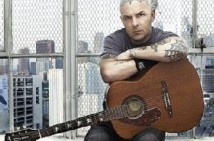 Tim Armstrong recently sat down for an interview with Collider regarding his new project, Tim Timebomb's RockNRoll Theater, an web series in conjunction with VEVO. The first episode is available now, in 7 parts, and is a musical take on Dante's Inferno, featuring Lars Frederiksen, Davey Havok, and others.
Also in the interview, Tim also gave updates on the upcoming records from Rancid and The Transplants:

"They'll come out next year. We're going to focus on The Transplants in December, but we already have a lot of that recorded. We were meeting at Travis Barker's studio every Tuesday, also known as Transplants Tuesday. We would just go up and play there, so we've got some tracks, but we're going to try to finish that up in December. That should be out next year. And, Rancid should definitely be out next year. That will be produced by Brett Gurewitz (from Bad Religion). He's been with us, every step. And, it will be out on Hellcat/Epitaph – the same label. I'm definitely looking forward to that. The way I do it is to block out everything else. I'm working on RockNRoll Theater right now. While I'm working with Jimmy Cliff, that's all I'll do. And then, I'll do The Transplants, and then Rancid. I've gotta break it up, like that. I can't do it all at once. I've gotta organize it. But, the good news is that I love it. I love playing music."
You can read the complete interview here.