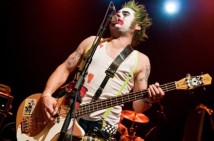 NOFX's Fat Mike has revealed he recently closed his Bank of America account as part of a nationwide US campaign to boycott Wall Street financial institutions. The 44-year-old veteran punk rocker, who recently performed at an Occupy protest in San Francisco, confirmed on Twitter that he had closed his BoA account earlier this month and joined the New Resource Bank, which says it is for people who are "leading the way to a more sustainable world."
Burkett, who sold his San Francisco mansion in 2008 for $5 million, admitted he considered himself part of America's wealthiest one per cent, but is "fully backing" the Occupy protests, which call for a revolution against greed and corruption.
He tweeted: "I just found out that I'm a 1%er. So this morning I've decided to start occupying myself in protest. Anybody want to join me?"
This past Sunday (26th November) Burkett performed at Occupy LA, and he has invited Alkaline Trio's Matt Skiba to join him. Other prominent musicians to lend their backing to the Occupy movement include Zach de la Rocha and Tom Morello of Rage Against The Machine, Justin Sane of Anti-Flag, and the rapper Jay Z.