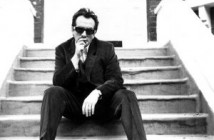 The legendary Elvis Costello has some harsh words for the new, super-deluxe box set produced by his label which costs more than $200; he has no criticisms of the package itself, describing it as a

…a beautifully designed compendium contains all manner of whimsical scribblings, photographs and cartoons, together with some rock and roll music and vaudevillian ballads. Tape and celluloid were rolling at the Wiltern Theater, Los Angeles in April this year and present a vivid snapshot of the early days of the Spectacular Spinning Songbook show on "The Revolver Tour" of 2011. The live recording finds the Imposters in rare form, while the accompanying motion picture blueprints the wilder possibilities of the show, as it made its acclaimed progress across the United States throughout the year.
However, his words for the price are less kind, and he describes it as "either a misprint or satire" Instead, Costello urges you to purchase Louis Armstrong's box set, Ambassador of Jazz for $150 and notes that "frankly, the music is vastly superior."
Check out the blog entry here.