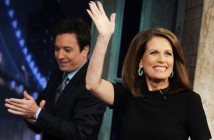 Ahmir "Questlove " Thompson of The Roots spoke to Pitchfork about the controversy that ensued when The Roots performed "Lyin' Ass Bitch" to introduce presidential hopeful Michele Bachmann. He explained:

It wasn't like a chess move where you have to think 12 steps ahead; you're just, like, "Fuck, all right, I'm gonna do it," in a kamikaze-type way. And I really didn't think about how it could be perceived as a misogynist swipe-- it didn't hit me until my [Twitter] timeline started showing up that it was seen that way. I was like, "Fuck, I forgot 'bitch' is actually in the title."

It deeply offended a lot of women's groups and non-Bachmann supporters, and for that I'm deeply sorry. I'm not parading like I'm the poster boy for the feminist movement, but those who truly know me know that that's not me. I was really just going with her whole revisionist history angle, I wasn't calling it out on her being a woman.

I've seen some really colorful epithets in the past four days, but "n*gger f*ckhead ghetto stick" is probably the one that takes the cake. I'm still trying to get my head around that one. Blocking 3,500 tea party extremists [on Twitter] in a three day period is no fun, especially when you're a drummer dangerously close to carpal tunnel. In the end, was it worth it? Absolutely not.
Questlove refers to Bachmann's oft-repeated and frequently debunked revisionism of history, like suggesting that slavery was somehow ended by the founding fathers. Of course, Bachmann's also holds the record for most false statements by any presidential candidate.