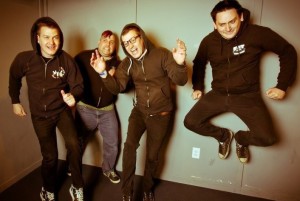 Teenage Bottlerocket will be returning to the Blasting Room in Fort Collins, Colorado to record their next album for Fat Wreck Chords. The band will be working with engineer Andrew Berlin and had this to say:

This has been the best year in Bottlerocket history, and we're anxiously looking forward to the new year! We are especially excited for 2012 because we are heading back to the Blasting Room to record a new full length in February. So far we know that we'll be working with longtime TBR engineer Andrew Berlin, and that Fat Wreck will be releasing it. Stoked! We have written some of our favorite songs to date, and we can't wait to show them to everyone! The record will come out later in 2012, and we will keep everyone posted as we have more details!
The band last released They Came from the Shadows in 2009 though 2011 saw the release of Mutilate Me [7-inch] and a reissue of their debut, Another Way.