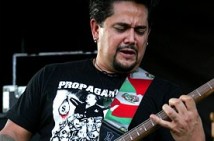 NOFX guitarist (and trumpeter) Aaron "El Hefe" Abeyta and his wife Jennifer have started a new record label called Cyber Tracks. The label plans to share equal interest with bands and have already made their first signing with Los Angeles trio, Margate. El Hefe commented on the deal:

We were just looking for bands to record and produce when we came across Margate and realized how many amazing and talented unsigned artists are out there. They are incredible as a band and as individuals and really motivated us to start something more than just a production company.
Check out some music from Margate here.