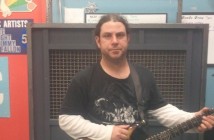 The family of recently deceased GWAR guitarist Cory Smoot, and Slave Pit Inc., have released a statement regarding the official cause of the death of the 34 year old, who portrayed Flattus Maximus in the band for over a decade, and was found dead in their tour bus on the 3rd of November this year.
North Dakota coroner William Masselo, MD is quoted as follows:

"We have finalized the autopsy report and death certificate. I have determined that Cory died from a coronary artery thrombosis brought about by his pre-existing coronary artery disease."
GWAR will finish their present touring schedule as a four piece, and have officially retired the character of Flattus Maximus, presumably as a mark of respect for Cory. There have been no announcements, as yet, regarding a new "GWAR-tarist".
In addition, Metal Blade and GWAR have set up the Smoot Family Fund in an effort to raise funds for Cory's family, particularly his wife Jaime and their unborn child. You can find more details of the fund here.
A record release show will be held for Cory's solo record, When Worlds Collide, on the 7th of January, 2012, at The Canal Club in Richmond, Virginia. The gig will feature sets from Mensrea, Cannabis Corpse DBX, and more. All proceeds from the sale of the album, due out early in 2012, will benefit the Smoot Family Fund.