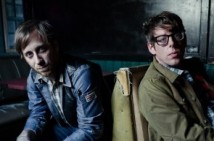 The Black Keys new album, El Camino, is one of the latest to be omitted from all-you-can-eat streaming services like Spotify and Rdio. The Grammy-winning band joins bands like Coldplay and labels like Century Media, Sumerian Media, Prosthetic Records and distributor STHolding in withdrawing support for the services over controversy about devaluing music through tiny royalty payouts.
The LA Times refers to a previous statement about Spotify speculating on why this might happen:

Right now we have already convinced millions of consumers to pay for music again, and they are generating real revenue for the music business. As we increase in scale, we will continue to re-educate millions of additional consumers as to the value of music, and we will thereby revitalize artists' ability to make music and make money from it. Artists can -- and do -- receive very substantial revenues from Spotify, and as Spotify grows, these revenue streams will naturally continue to grow. Spotify is now the second single largest source of digital music revenue for labels in Europe, and we've driven more than $150 million of revenue to … artists, publishers and labels since our launch three years ago.
Of course, the album is still available through digital services like Amazon and iTunes as well as physical media.