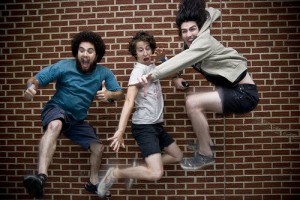 Our stream today comes from Washington, DC-based The Max Levine Ensemble. We've got a stream of the band's new EP, Elephant In The Room. Lyrics and more info on the EP can be found here.
You can check it out on their Punknews.org Profile
The Max Levine Ensemble are currently on tour through out December and January including Spoonboy performances. The dates can be found below.
| DATE | CITY | VENUE |
| --- | --- | --- |
| 12 / 9 | WASHINGTON, DC | St Steven's Church (1525 Newton Street NW) w/ Harry and the Potters |
| 12 / 10 | COLUMBUS, OH | Skylab (57 E Gay St) w/ Traveling |
| 12 / 11 | KENT, OH | The Stone Tavern (110 E Main St. w/ Traveling |
| 12 / 12 | CINCINATTI, OH | Planet Kickflip (2844 Spring Grove Ave) w/ Traveling |
| 12 / 13 | LOUISVILLE, KY | Chestnut House (714 E. Chestnut St) w/ Traveling |
| 12 / 14 | BLOOMINGTON, IN | Russian Recordings (1021 South Walnut St) w/Traveling, High Dive |
| 12 / 15 | MILWAUKEE, WI | CCC (732 E Clarke St) w/ High Dive |
| 12 / 16 | MINNEAPOLIS, MN | The Minnehaha Free Space (3458 Minnehaha Ave) w/ High Dive |
| 12 / 17 | CHICAGO, IL | The Juicer (1238 N. Noble) w/ High Dive |
| 12 / 18 | GRAND RAPIDS, MI | The DAAC (115 S. Division) w/ High Dive |
| 12 / 19 | DETROIT, MI | Trumbullplex (4210 Trumbull) w/ High Dive |
| 12 / 20 | PITTSBURGH, PA | The Shop (4314 Main St.) |
| 12 / 26 | RICHMOND, VA | Strange Matter (929 West Grace Street) w/ Delay |
| 12 / 27 | GREENVILLE, SC | The Villa (5 3rd ave.) w/ Delay |
| 12 / 28 | ATHENS, GA | Go Bar (195 Prince Avenue) w/ Delay |
| 12 / 29 | BIRMINGHAM, AL | the Firehouse (412 41st St. South) w/ Delay |
| 12 / 30 | CHATTANOOGA, TN | Sluggo's (501 Cherokee Boulevard) w/ Delay |
| 12 / 31 | ATLANTA, GA | Wonderroot (982 Memorial Drive) |
| 1 / 1 | GAINESVILLE, FL | Wayward Council (807 W University Ave.) |
| 1 / 2 | DELAND, FL | the Junkyard Saloon (5115 U.S. 17) |
| 1 / 3 | NAPLES, FL | Squarehead (1895 Seward Ave #1) |
| 1 / 4 | TAMPA, FL | Transitions Art Gallery (4215 East Columbus Drive) |
| 1 / 5 | TALLAHASSEE, FL | Shark Tank (1651 Sharkey St.) |
| 1 / 6 | NEW ORLEANS, LA | The Big Top (1638 Clio St.) |
| 1 / 7 | AUSTIN, TX | TBA |
| 1 / 8 | FT. WORTH, TX | 1919 Hemphill |
| 1 / 9 - 12 | SPOONBOY TOUR | SPOONBOY TOUR |
| 1 / 13 | BERKELEY, CA | 924 Gilman St. w/ Street Eaters |
| 1 / 14 | SAN FRANCISCO, CA | TBA |
| 1 / 15 | SAN DIEGO, CA | Che Cafe (9500 Gilman Drive) |
| 1 / 16 | POMONA, CA | VLHS w/ Joyce Manor |
| 1 / 17 | RIVERSIDE, CA | The Blood Orange Infoshop |
| 1 / 18 | GOLETA, CA | Biko Garage (6612 Sueno Rd.) |
| 1 / 19 | OAKLAND, CA | TBA |
| 1 / 20 | PORTLAND, OR | Backspace (115 NW 5th) w/ Rvivr |
| 1 / 21 | OLYMPIA, WA | TBA w/ Rvivr |
| 1 / 22 | SEATTLE, WA | Fusion Cafe (909 Fourth Avenue) w/ Rvivr |