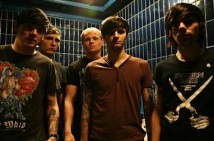 UK-based Dead Swans will be recording a new EP in 2012 titled Anxiety and Everything Else. The hardcore band's guitarist said this:

The new EP is the same Dead Swans you know, but we've stepped it up a level. We're going back to record at Cro's Nest studio as we love the recording on Southern Blue, and want to go for a similar, raw sound.
The group has also announced a European headlining tour to be supported by Philadelphia's Horror Show.
| | | |
| --- | --- | --- |
| January 25, 2012 | Stuttgart, Germany | Juha West |
| January 26, 2012 | Munich, Germany | Feierwerk |
| January 28, 2012 | Cologne, Germany | Underground |
| January 29, 2012 | Leipzig, Germany | 4 Roums |
| January 30, 2012 | Vienna, Germany | Shelter |
| January 31, 2012 | Berlin, Germany | Lovelite |
| February 01, 2012 | Wolfsburg, Germany | Juha Ost |
| February 02, 2012 | Antwerp, Germany | Belgium |
| February 02, 2012 | Antwerp, Belgium | JC Kavka |
| February 03, 2012 | Sheffield, UK | Broomhall Centre |
| February 04, 2012 | Leeds, UK | The Well |
| February 05, 2012 | London, UK | The Underworld |