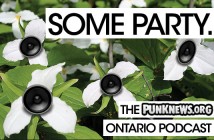 While Punknews.org is staffed by an increasingly global team of volunteers, we try not to forget our roots as a small zine and website based in Toronto, Ontario, Canada. Yet even in those early days it seems like we've always spoken more about the music coming out of New York, LA, Philadelphia, and Gainesville than that from our own backyard. It's thus long overdue that we turn the spotlight on the Ontario scene. Introducing Some Party: the Punknews.org Ontario podcast.
Hosted by Punknews managing editor Adam White and based out of Niagara Falls, Ontario, Some Party will strive to reflect the province's vibrant independent music community. It will feature a mix of local punk rock and the genre-defying offshoots of that scene, from singer-songwriter to alt-country to folk. In this first episode we feature music from Marine Dreams (ex-Attack In Black), The Demics, Bathurst, Northern Primitive, Mark It Zero, The Decay, The Steve Adamyk Band (ex-Million Dollar Marxists), Single Mothers, Bruce Peninsula, Cuff The Duke, Pkew Pkew Pkew (Gunshots), Elk, One Hundred Dollars and Mongo.
You can click Read More to stream and/or download the show, or subscribe via RSS (MP3 / Enhanced AAC) or via the iTunes Store. We're also looking for bands for the next episode and we invite you to submit a few here.
Some Party: The Punknews.org Ontario Podcast - Episode 1
Track Listing