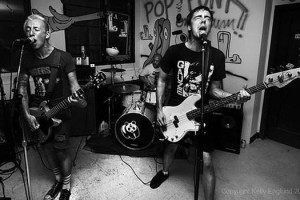 Boston's The Credentials have announced that they are calling it quits. Their final performance will be at Smash It Dead Fest in Boston, MA in March, and they will be releasing one last 7", a split with Steelhorse. A release date has not been announced.
The band wrote:

We're breaking up. As a close friend recently confided in me, "The Credentials was three people who should never have been in the same room together". We did a lot in a short time–a tape, two LPs, and four 7″s, two full U.S. tours, countless weekends, fests, and Boston shows–and we're pretty ready to give it a rest. This band gave us the opportunity to make amazing friends all over the country, to travel places none of us had ever been, to put out fucking records, play with insane bands, and to connect to people through love of music and punk.

I think that's everything. Thank you so much to everyone who helped us out over the years…it's really difficult to express in words how much it all has meant to me…so come to the last show and freak the fuck out.
Their last album was Goocher in 2011. You can read their full post here.