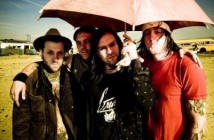 The Used have announced the formation of a new imprint, dubbed Anger Music Group. The imprint is a partnership with Hopeless Records and is described as " all inclusive art production company." The first scheduled release will be Vunerable, the band's new record and first since leaving Warner Music Group in September. The album will be their fifth studio album and frontman Bert McCracken explains:

Vulnerable is about taking one step back and two steps forward. The sound of the record is as evolved as it possibly could be, it maintains the same emotional integrity as the first record [2002's The Used], yet it sounds like the future (and the future sounds bright). Vulnerable is about taking a chance to let the real you shine. This record is for the outcasts, the misfits, the misunderstood, and the ones who have always dared to be themselves. I can't wait for you to hear it.
The band last released Artwork.