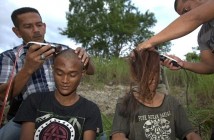 Earlier this week we reported on the detainment, "re-education", forced haircutting, forced bathing, and confiscation of clothing, carried out by Shari'ah police officers, against over 60 attendees of a charity punk show in the Indonesian province of Aceh. You can find those stories here and here. Since then, there have been a number of responses from the punk community, including planned responses from punks in Indonesia itself, and international appeals for shows of solidarity with the Aceh punks.
The Jakarta Globe is reporting that the Jakarta bassed collective Bendera Hitam (Black Flag) are planning actions in solidarity with the punks in Aceh. The Jakarta Globe reports that the collective are 'planning to stage a rally at the Aceh representative's office in Jakarta to demand the release of the detained punks'. Spokesperson of Bendera Hitam, Joshua A. Lalamentik, is quoted as follows:

"Most of our members are really enthusiastic to do this rally. As far as we know, our friends in Aceh are still detained. We want to free them and we have to act fast"
Aborted Society have announced their 'Mixtapes for Aceh' initiative, inviting punks who are able to make and donate mix tapes and CD-Rs to be sent to Aceh for distribution amongst the punks there.

"We are privileged to live in a society where we are free to express ourselves as we wish, and while the US and other Western states have their fair share of police injustice, this incident is a harsh reminder to how good we really have it. That is why we are starting a small initiative in solidarity with our friends overseas, to let them know that we stand behind them and fully support them."
You can read the full announcement, including details of the gifts which can be included in the shipments, here.
Meanwhile, German punks Red Tape Parade (featuring PunkNews staffer Wauz on vocals - transparencynews.org) have appealed for their fans on Facebook to send them spare gear to be sent out to Aceh punks in the near future, with their initiative, Up The Aceh-Punx. Here's a quote from the status in question.

"I have direct contact to someone in Aceh, so now I´m asking all of you - no matter if you play in a band, write for a zine, own a label, or simply share our love for punk music and punk culture - to contribute stuff so we can send it over to Indonesia, to let our friends there know that they are not alone, and that "unity" is more than a catchphrase in a song. So, if you have CDs, zines, records, pins, shirts etc. you can give away please leave a comment and we´ll get in touch."
If you want to help but aren't on Facebook, the band have created a contact email for the project. They are also posting photos of donations on their Facebook page.
If you've come across a response to the detainment that you think we should be reporting on, or a development in the case that we may have missed, please let us know via the submissions process.