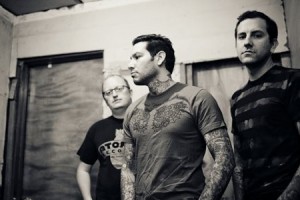 MxPx has announced the title of their upcoming 9th LP. The album will be called Plans Within Plans. Frontman Mike Herrera described how the name came about:

I struggled with this album title for a long time. I had been recording this album between tours and booking tours, studio sessions, and trying to live somewhat of a normal life. Life got in the way of that. Plans Within Plans was the only way i could describe all the mayhem that was going on behind the scenes of putting this collection of brand new songs together. I was and still am literally flying off the rails trying to juggle all the jobs that need doing to keep this ship afloat. I'm the captain going down with the ship.. but just maybe we'll make to land before we all drown.
The new album features drummer Yuri Ruley who left the band last year but is continues to record with the band. They last released the Left Coast Punk EP in 2009 on their on Rock City Recording, with their last full-length being 2007's Secret Weapon which came out via Tooth & Nail Records.