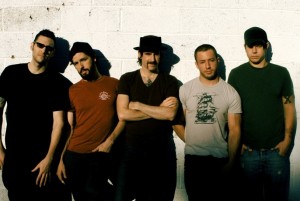 Blabbermouth is reporting that Dillinger Escape Plan has begun work on their fifth studio album. Guitarist Ben Weinman comments:

"Billy [Rymer, drums] and I have been locked up in the DILLINGER compound and things are starting to boil. […] There is nothing like that feeling when you realize… Yep, just when I thought I was drained, the juices are back in full force! The neighbors are definitely getting pissed, but we couldn't be more excited."
The band is also heading out on a string of UK dates in February with Mastodon and Red Fang, followed by Soundwave Festival in Australia. Dillinger Escape Plan released their last full-length, Option Paralysis, in 2010.