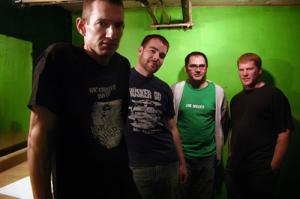 Chicago's The Bomb, of Jeff Pezzati fame, have been keeping it fairly low-key the past couple years due to a lot of work in other musical projects. Still they managed to satisfy Bomb fans with some newly released material through No Idea records, The Challenger 11". Earlier this year they finished a UK tour, in which Jeff got a live Morrissey overdose and worked on his Scottish accent, before their mini-tour and Fest date last October . While various outside musical projects keep them busy, we can still expect more from The Bomb. Jeff Pezzati was kind enough to discuss a lot with punknews interviewer Stephanie Thornton including recent tours, songwriting and guest vocaling, and just what the difference is between Naked Raygun and The Bomb.
Congratulations on the new album. What did you all get up to for those two years in between?
Well it sure doesn't seem like 2 years have gone by….. I've been part of the homeless problem for the past year at least - switching between living in Florida and Chicago. Naked Raygun played a few more shows during that time and released three 7" singles. That kept me pretty busy…. And I got to see Morrissey twice and we toured England and Scotland and I spent a coupla weeks in Ireland after that and I was involved (grounded in the Icelandic natural disaster of that volcano thing). And I got 16 ½ hours of sleep too. Oh yea - I learned how to make a nice "snakebite," the Irish way….cheers.
Your new album, The Challenger, came out about a month ago. How do you feel the response been so far?
I haven't heard much feedback at all except from other band members, who all love it. It has one side (in the vinyl version) of studio tracks and the other side is recorded "live" in the studio, with everyone playing at the same time. We did that side in London whilst on tour.
While Speed is Everything took a slower turn compared to previous releases, I feel it really saw The Bomb breakthrough into a more unique sound of your own. How would you say your sound has evolved further on The Challenger?
Well the song writing has remained essentially the same as the last two albums. That is Jeff Dean writing all the music and I write the vocal melody and lyrics. Additionally Mike Soucy (drummer) wrote half of The Challenger lyrics and came up with the name. Jeff Dean did some lyric work on "Man Atlanta". Our sound, to me, remains the same as always. We have the freedom to expand our sound to the furthest reaches of the world, nay the universe itself.
What influenced your decision when choosing the alternate songs to re-record for The Challenger?
If you're talking about the "live in the studio tracks" then we kind of took some of our favorites from each of the albums. If you're talking about the four studio tracks - then that was all we had that was new at the time..
J. Robbins produced both Indecision and Speed is Everything, and now he's got guest vocals on the new record. What is it that keeps The Bomb and J. Robbins so tightly bonded?
Secretly we have the same mom. Also I think that him and Jeff Dean went to different high schools together. Jay Robbins does our music justice. It turns out like we picture it.
You have guest vocals by Vic Bondi and J. Robbins on the new album; this continues the guest vocals trend that you set on Speed is Everything. Of course Jeff has appeared as a guest on others' albums as well. What do enjoy most about doing and receiving guest vocals?
When you're brought in to do guest vocal spots the pressure is off of you because, let's face, if it sucks they won't use it and if the song stinks, well you didn't write it after-all, now did you? And when you have a guest vocalist you should make sure that the singer can perform the part that you want them to sing. One of the most pleasant surprises was when we asked Elizabeth Elmore (Sarge) to sing the Naked Raygun song "Trio". She nailed it on the first take and we had to have her sing it again a couple of times just because we felt bad that she drove all that way for one take. She's that good. The same with Dan Yemin (Paint It Black, etc.) on Speed is Everything. The song "Integrity" needed a screamer part and Dan drove for 3 hours to get to the studio in Baltimore to do it. When he got there he said to me, "You know, I can't sing." And I replied, "I know, I wrote this part for you. All you have to do is scream." He also did the entire song on the first pass and we had HIM sing it again too. When asked what got him in the pissed-off sounding mood that perfectly fit the part he simply said, "I just thought of Reagan."
Your lyrics seem to consistently have an insightful, personal tone. What kind of lyrical theme have you all traditionally held up and how does that compare to the new album?
Let's just say that I have a lot of personal issues I'm working through. The last zillion songs that I wrote are an attempt at helping me find an outlet for some of them.
Whether you mind or not, The Bomb can't shake Naked Raygun comparisons. What steps do you take, if any, to avoid those comparisons while recording?
No one sounds or plays guitar like Jeff Dean. His style is as unique as it gets. So the guitar work in each of the bands is very different. Jeff writes a lot of dissident, crashing chords (and non-chords) and Bill Stephens keeps it meticulously flawless sounding and primarily straight major and minor chords. Recording-wise both bands go for all out - mike-it-six-times-on-3-tracks for the hugest sound possible.
You all played the Fest again this year. You've actually been on the Fest line-up a couple times. Throughout the years of attending and playing The Fest, how do you feel it has grown and changed and what keeps you coming back whether it's to play or just to attend?
The Fest is great because it's only punk bands and because of that everyone who attends is geared up to play, listen to and watch punk music for 3 days. There are no surprises and we've all made friends of a lot of the other band members. It's always good to see them again.
What other musical projects are you each involved in?
Jeff Dean works as a recording guru at Million Yen studio in Chicago. He just did a Vic Bondi recording and an Amusement Parks on Fire solo project. He also is in a bunch of bands; Explode and Make-up, All Eyes West, Noise by Numbers, and Four Star Alarm. Mike Soucy plays with Dan Schaeffer and the Cheats, And Pete no longer plays with the defunct Methadones but is filling in on bass for Naked Raygun while Pierre Kezdy convalesces. Pete also plays in the band Neutron Bombs who sound like a very good English second-wave punk band. I have been threatening to record and release a solo album of songs that after you hear it all you will be able to say is (in a Scottish accent), "Ya doosent have to cry aboooot it.'
With a fresh new album under your belt, what is next for The Bomb in the short term and what kind of long term goals do you have?
To keep doing what we do until we don't feel that it needs to be done any more.