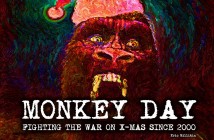 We here at Punknews consider the War on Christmas to be a 365 day a year undertaking. To further distract you from, "The reason for the season," we have best of lists from Scotty Sandwich (The Sandwiches, Death To False Hope Records), Nate Gangelhoff (Banner Pilot), and Paul Koehler (Silverstein). Check back as we round out the finality of our year with more lists telling you what's important this year.
Scotty Sandwich - The Sandwiches/Death to False Hopes Records
LPS:
Nothington - Borrowed Time
Samiam - Trips
Red City Radio - The Dangers of Standing Still
Banner Pilot - Heart Beats Pacific
Dead to Me - Moscow Penny Ante
Restorations - Restorations
Elway - Delusions
The Slow Death - Born Ugly, Got Worse
The Outsiders - Shallow Graves
Nightlights - So It Goes
EPS:
The Fake Boys - Nice Knowing You
Let Me Run - Let Me Run
Luther - Siblings and Sevens
Protaganist - States
White Wives - Situationist EP
Nate Gangelhoff - Banner Pilot
Breaking Bad Season 4
Arguably the best season of inarguably the best show currently on television.
Joyce Manor - Self Titled
Discovered this band late in the year but I was hooked immediately. It reminds me of this band Little Lungs that I got really into in 2009; it has some unique and interesting parts but it's still *catchy*, and not weird or different for the sake of being weird or different.
Dead to Me - Moscow Penny Ante
How many other bands have been able to pull off multiple lineup changes and multiple styles of music as well as these guys? It's rad. And it does't sound weird or forced. Like, when Vanilla Ice reinvented himself as a nu metal frontman it was awesome and everything, but it was also, you know, insane. DTM changes sounds on each record in a way that actually makes sense and seems natural. I've liked every album along the way and this is no exception.
The Copyrights - North Sentinel Island
I don't like "pop punk" (defined narrowly) that much anymore, unless it's done really, really well. This is pop punk that is done really, really well. So, I like it! See how that works?
House Boat - The Thorns of Life
See above!
Johnny Foreigner - Vs Everything
This was actually a little disappointing as they're my favorite band from the last few years and I was expecting more, especially given the great singles they've been throwing out since the last record. It's growing on me, slowly, but there's some definite throwaways here. Still, the 7 or 8 songs that are immediately awesome get this one into the top 5.
Candy Hearts - Everything's Amazing and Nobody's Happy
If you told me, "Check it out, here's this super good band from 1996 that no one ever discovered! They're really catchy and cool!" I would believe you. And then when I discovered that you were lying and it actually came out in 2011 I'd be like, "What the fuck? What was the point of lying about that?"
Fucked Up - David Comes to Life
I think enough has already been said about this record. I will add: I like it. It's good.
Samiam - Trips
I never really checked out this band until this year. Holy shit, that was dumb of me. It's been sweet to discover all the gems in their back catalogue, and this new album is great too. How many bands release albums this solid 20 years or so into their career? It loses a little bit of steam towards the end, but 80 West is the best song of the year so that makes up for it.
Frank Turner - England Keep My Bones
Frank rules. There are usually a few songs I skip on each record, and then the rest I'll listen to a million times, so it evens out. Well, I guess that doesn't really even out; it seems kind of lopsided, actually.
Paul Koehler - Silverstein
TOP 10 ALBUMS OF 2011
Bon Iver - Bon Iver
John Maus - We Must Become the Pitiless Censors of Ourselves
Ringo Deathstarr - Colour Trip
Soft Kill - An Open Door
I Break Horses - Hearts
Tycho - Dive
tUnE-yArDs - W H O K I L L
Cold Cave - Cherish The Light Years
Destroyer - Kaputt
Neon Indian - Era Extrana
Honorable Mentions:
Cave In - White Silence
Cut Copy - Zonoscope
Fucked Up - David Comes to Life
Gang Gang Dance - Eye Contact
Holy Ghost! - Holy Ghost!
Justice - Audio Video Disco
Weekend - Red
When Saints Go Machine - Konkylie