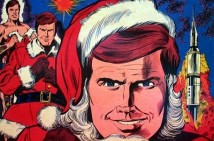 We've returned, yet again, to bring you this very special Six Million Dollar edition of the "Best of 2011"! Today we have some of the best lists by Ben Murray (Heartsounds), Mike Campbell (Laura Stevenson and the Cans/Latterman/Kudrow) and Jamie [Last name withheld] (Blacklist Royals). So check out what they have to say and don't sweat the technique. We'll be back to bring you more of the best, from the best as we attempt to pad the closing of 2011 with any news we can find.
VYGR- Hypersleep
Anchors- Bad Juju
Polar Bear Club- Clash, Battle, Guilt, Pride
Frenzal Rhomb- Smoko at the Petfood Factory
The Stereo State- Have All My Friends Gone Deaf?
Small Brown Bike- Fell and Found
Living With Lions- Holy Shit
Seahaven- Winter Forever
Bon Iver- Bon Iver
The Swellers- Good for Me
10. Crooked Fingers - Breaks in the Armor - the latest from Archers of Loaf frontman Eric Bachmann offers a completely opposite approach from his more full-time job. Quite, somber, sometimes just really emotionally devastating. It's interesting to hear this stuff, and think "This is the same guy who wrote 'Web In Front'?"
9. Cults - Cults - I toured with these folks last summer and they were super fun. The first day I met them, they "iced" me in the middle of the street in front of a cop in Cleveland, and they also write some dreamy, girl group-tinged pop tunes.
8. Traveling - End of the Summer (demo) - I've known Ginger for years, and have played with/loved all of her bands. This is the logical progression of her continuing to write some great Springsteen-meets-pop-meets-punk rock songs.
7. Feist - Metals- This record didn't hit me immediately like her previous "The Reminder" did, but after a few listens, I started to appreciate it in a totally different, unique way. Really great, moody songs with surprising structures and ambitious approaches.
6. Charles Bradley - No Time For Dreaming- Daptone Records puts out a variety of soul and funk revival artists, but this one is just so fucking good. Charles Bradley has been in and out of the soul scene since the 70's, battled drugs, family dissolution, other tragedies. This record is his triumph. He also covers Nirvana and Neil Young on an unreleased B side from the record. That's punk, right?
5. Girls - Father, Son, Holy Ghost - Not much to say about this, other than it is definitely a step up from their debut from last year. They upped the production quality, which added to the nature of these new-wavey songs.
4. Tom Waits - Bad As Me- Can do no wrong. End of story.
3. Off! - The First 4 EPs - Though heavily leaning on nostalgia (come on, you were the singer of Black Flag, and you have Raymond Pettibon do your album art, and you call your record "The First Four…(something)" ??), this group of songs is fucking awesome. I got to see them at SXSW this past year, and it was kind of the only show I enjoyed the whole week I was there.
2. Bomb The Music Industry! - Vacation - These are some of my best friends in the world, and some of the best musicians I have ever met. Every record they make is leaps and bounds better than the last, and not many bands who have put out seven records, and tons of EPs can say that. In fact, I can't think of any band in history that gets better with age like these guys do. They aren't afraid to reach out of their musical comfort zones, and they don't care that they might freak out their loyal ska-punk fan base by putting a record chock full of Elvis Costello-inspired indie-rock. Quite bold, Mr. Rosenstock. Bold indeed.
1. Beirut - The Rip Tide - This year, LS & The Cans got to play with Beirut in Amsterdam (sort of). We definitely shared a dressing room area with them, and drank beer with their tuba player after the show. They didn't watch us play though. But they did put out an awesome record this year, and there was a lot of expectation for them to follow up their last record with something powerful, and they did it. Perfect blend of traditional acoustic instruments, bulgarian folk structures, modern synthesizers, and one of the best vocalists/songwriters in music today.

Make Do And Mend - Part and Parcel
Lionize - Superczar and the Vulture
Greenland is Melting - Where Were We
Less Then Jake - Greetings From
The Biters - All Chewed Up
Mariachi El Bronx - II
The Weakenders - Everything and Nothing
Fucked Up - David Comes to Life
Teenage Bottlerocket - Mutilate Me
The Black Keys - El Camino