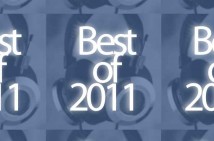 Yesterday we published our individual staff picks for the year of 2011, today we bring you our overall lists. First up? The Punknews.org Best Of 2011, as decided by the Punknews staff. Your list, determined by your voting on reviews throughout the year, is coming up.
How did we determine this list? This year we did things a little differently. Around 20 members of the volunteer Punknews.org editorial staff, along with our reviewers, interviewers and some alumni, each submitted a ranked top 20 list of LPs and a separate list of EPs. To these lists we applied the cosmic magicks known as "addition" and "sorting," which you humans may know as "math," and that created our overall list. As of writing this I haven't seen a single commenter correctly predict our #1 album, and that excites me… because anarchy.
What are you waiting for? Check out Punknews.org's Best Of 2011!