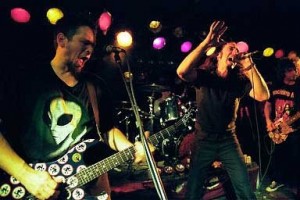 D.R.I. will head out on the road this spring sans crew. In lieu of bringing roadies on tour with them, they're instead seeking local roadies in each city they play. The job description reads:

"D.R.I. is about to fly into cities across the country and play shows without any crew. We need temporary roadies to help in the cities we are about to play. Here is your chance to roadie for the Dirty Rotten Imbeciles. This is serious; there will be some real work. You must be SOBER and could be asked to drive locally. You will not get paid, but you will get into the show for free. You'll get a free shirt and free soft drinks (no beer, must be sober!). Plus, you get to hang out with some imbeciles."
Full details on how to apply can be found here.
| DATE | VENUE | CITY |
| --- | --- | --- |
| 2/29/2012 | Engine Room | Tallahassee FL |
| 3/1/2012 | The Masquerade | Atlanta GA |
| 3/2/2012 | Brass Mug | Tampa FL |
| 3/3/2012 | Churchhills | Miami FL |
| 3/5/2012 | House of Rock | Corpus Christi TX |
| 3/6/2012 | White Rabbit | San Antonio TX |
| 3/7/2012 | Emo's | Austin TX |
| 3/8/2012 | Jake's | Lubbock TX |
| 3/9/2012 | Trees | Dallas TX |
| 3/10/2012 | Scout Bar | Houston TX |
| 3/11/2012 | Click's | Tyler TX |
| 3/12/2012 | The Hangar | New Orleans LA |
| 3/18/2012 | Mojoes | Joliet IL |
| 3/19/2012 | The Pyramid Scheme | Grand Rapids MI |
| 3/20/2012 | Outland | Columbus OH |
| 3/21/2012 | Altar Bar | Pittsburgh PA |
| 3/22/2012 | Lost Horizon | Syracuse NY |
| 3/23/2012 | Reverb | Reading PA |
| 3/24/2012 | Starland Ballroom | Sayerville NJ |
| 3/25/2012 | Bogie's | Albany NY |
| 3/25/2012 | Bogie's | Albany NY |
| 3/26/2012 | The Palladium | Worcester MA |
| 3/27/2012 | Soundstage | Baltimore MD |
| 3/28/2012 | Kingdom | Richmond VA |
| 4/4/2012 | The Orpheum Theater | Flagstaff AZ |
| 4/5/2012 | Cheyenne Saloon | Las Vegas NV |
| 4/6/2012 | Chain Reaction | Anaheim CA |
| 4/7/2012 | Chain Reaction | Anaheim CA |
| 4/8/2012 | Ventura Theatre | Ventura CA |
| 5/6/2012 | The Rave | Milwaukee WI |
| 5/7/2012 | Vaudeville Mews | Des Moines IA |
| 5/8/2012 | Broadway Joe's | Buffalo NY |
| 5/10/2012 | Wally's Pub | Hampton Beach |
| 5/11/2012 | Championship Bar and Grill | Trenton NJ |
| 5/13/2012 | Jaxx Nightclub | West Springfield VA |