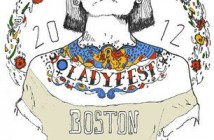 This is My Fist, Waxahatchee (Kate Crutchfield, formerly of P.S. Eliot), Alice Bag, Ampere, Slingshot Dakota, and many others are set to perform at Ladyfest Boston, to take place February 3rd through 5th in Cambridge, MA. The event will feature over 25 bands, including the aforementioned, over 3 days at the Cambridge YMCA. In addition to bands, the festival will feature workshops from cartoonist Liz Prince, and drummer Angie Boyland (of Aye Nako).
The Ladyfest movement began in Olympia, WA in 2000, and quickly spread to other cities and countries. Each festival is independently organized, but share the overarching goal of promoting women and feminism in art and activism.
For more details, including a full list of artists who will be performing, check out the Ladyfest Boston website.