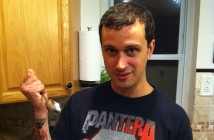 Philly's Armalite has recently blessed us all with a new 7", Humungous [7-inch] after a five-year break. A bit of an all-star group, Armalite combines the best of all four members' worlds to create a sound unlike any other. Punknews interviewer Stephanie Thornton recently had a few questions for drummer Jeffrey Ziga. Jeffrey questions the term "supergroup", praises Philly's scene, and is reluctant to scope out reviews of the new release for a slightly awkward but hilarious reason – read on to find it!
So you guys are a supergroup from Philly which has been an awesome hub for punk music. What makes you proudest to claim Philly as your hometown?
Well if we could start for a minute and talk about the use of the term "supergroup". My biggest claim to fame is this band, Armalite. People often cite that I was in Affirmative Action Jackson but I am willing to bet that none of those people have ever seen that particular band or could accurately describe it. And if they had, maybe they would re-think their use of that previously mentioned term.
Philadelphia is great and has a wonderful thriving tradition of DIY music ever since before I cared about it and will hopefully exist far beyond my ability to participate in it. So I'm proud of that. Many of us have basements in our homes, so punk things breed in those places.
In 2009, you stirred up some online fans with a fake Obama protest song that you eventually had to explain as a joke. You listed the reasons for the joke including that the song was written only a few hours after his inauguration and that this song was publicized by Armalite's personal publicist. Since then, what thoughts have you developed about politics in our country and would that ever truly be a theme in Armalite's songs?
The more important theme here is: troublemaking. Starting trouble is, as far as I can tell, one of the best parts about punk culture. So an online hoax is just one manifestation of that. For a more involved and snooze-worthy discussion of politics, interview one of the other members of this band. They will give you earnest answers and I appreciate them for that.
What type of lyrical themes do you all tend to stick with and what would you say they are on the new album?
Adam and Mike write all the lyrics. I read them later on after they're recorded, around the time that they're being sent to the printshop for the insert, so there's a lot of trust going on there. I think they are both smart and well spoken. They sing about a variety of topics both in the political and personal spheres. Mostly I think the lyrics are great, except that song "Metastic!" I think Adam outsourced that one to Sam, his son.
By the way, congratulations on the new album, Humongous. How do you feel about the way it turned out and the response so far?
It's a 3-song 7" and I think it is great. I have no idea what the response has been to it as a release. I haven't trolled any messageboards to see what people are saying about it. I also haven't googled the search terms "Humungous 7 inch" because, well, just because.
Armalite has a super unique, recognizable sound. With five years in between albums, how would you describe the progression of your sound between Armalite and Humongous?
Here's the secret to Armalite's sound: sort of mid-west-y power guitar punk + DC noodle guitar punk + the greatest punk drumming in the world + Atom and Mike's vocals. That progression has been a straight line right on through both releases.
Your music is released super sporadically. I know you are all in other projects, and Dan Yemin is a child psychologist and a father. What other grown-up jobs and responsibilities do you all maintain and where is Armalite on your priorities list?
Actually, no. It's not sporadic. We release our music regularly, at five-year intervals. That being said, Adam is a teacher and father of two; Mike lives 2800 miles away and is a Scuba diving instructor; and, as you mentioned, Dan Yemin has a psychology practice and is the father of one. I started an ice cream company called Little Baby's Ice Cream and we are based out of the Philadelphia area.
I heard Atom quit Atom and his Package because being on stage alone was too awkward. Is this true and how does he like the group dynamic that Armalite offers?
That's an interesting theory; that he got lonely. Maybe he just got tired of having to do all the work himself. I mean, he can't blame anything on a machine, but if a band sounds crappy, he can always just point at someone else and blame them! Is it true? Probably not.
You played the Fest this year. How was that?
It felt like summer in October. Should I recount all the zany things I did? I'm not going to. What we do is secret. But I do hope to be back next year in some capacity.
What is next for Armalite?
A long inactive period.