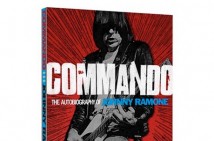 The Associated Press is reporting that eight years after Johnny Ramone lost the battle with prostate cancer, he'll be publishing the story of his life in his upcoming autobiography set to be released on April 2nd, 2012 on Abrams Books. The book includes a foreword by bandmate Tommy Ramone (aka Thomas Erdelyi) and an epilogue written by Lisa Marie Presley.
According to his wife Linda, he had begun compiling his memoirs soon after his diagnosis with cancer. The Associated Press quotes:

"It is a really powerful book because his whole life has gone before him and he knows it's going to come to an end, and he really needs to tell everybody what he's feeling inside, so that's what makes it so amazing," she added later. "That is the biggest, most powerful thing, writing a book when you know you're dying."
You can read the full AP article here. Fun fact: Apparently Henry Rollins had his hand in putting this book together.