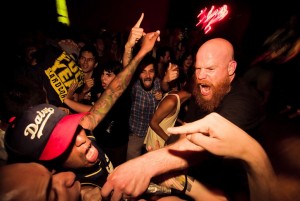 Long-running Los Angeles hardcore band Strife will head to Brazil next week to begin recording a new full length; their first since 2001's Angermeans on Victory Records. The band will be recording with Terror's Nick Jett (Take Offense, Lionheart) and drummer Iggor Cavalera (Sepultura / Cavalera Conspiracy) will perform on the recording. The plan is to mix and master the album at Sunset Lodge in Los Angeles with producer Matt Hyde.
Guitarist, Andrew Kline, said:

This album is going to be our best release yet… We have been working on preproduction tracks for the last few months, and the songs are amazing… This record is more along the lines of "In This Defiance", but with a harder and a little more modern edge… Plus Iggor's drumming is really going to take everything to the next level.
The band was formed in 1991, split up in 1997 after the release of In This Defiance and reformed in 2001.