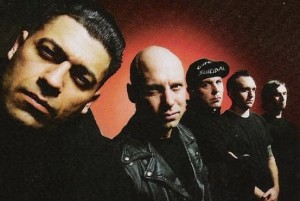 Orange County, CA's Death By Stereo has signed with Viking Funeral Records for their sixth full-length, Black Sheep of the American Dream, which is due out this spring. The band's vocalist Efrem Schulz explains:

I am proud to be a part of Viking Funeral because Fletcher [Dragge of Pennywise], Ken Seaton [of Hardline Entertainment] and the whole Suburban Noize family have the same DIY, never back down mentality that we have. Viking Funeral is a perfect home for us, as we've seen how labels work and the majority of them are more interested in making a quick buck instead of developing an artist that puts out great records. Working with Viking Funeral brings us back to our early days in the hardcore and punk-rock scenes that birthed us, because they care about the music rather than what's trendy. This record is a return to our roots and with the addition of our original bass player Paul Miner as producer we have re-established our signature sound and we managed to forge a new sonic path for Death by Stereo.
Death By Stereo is currently out on a European tour with Agnostic Front and Naysayer which they'll follow with a few southwest US shows.
| DATE | CITY | VENUE | DETAILS |
| --- | --- | --- | --- |
| Feb 3 | Aarau, Switzerlan | Kiff | w/ Agnostic Front |
| Feb 4 | Pinarella Ra, Italy | Rock Planet | w/ Agnostic Front |
| Feb 5 | Romagnano Sesia, Italy | Rock n Roll Arena | w/ Agnostic Front |
| Feb 6 | Rome, Italy | Blackout Club | w/ Agnostic Front |
| Feb 7 | Gorizia, Italy | Pieffe Factory | w/ Agnostic Front |
| Feb 8 | Wien, Austria | Szene | w/ Agnostic Front |
| Feb 9 | Cham, Germany | L.A. Lifestyle Club | w/ Agnostic Front |
| Feb 10 | Cottbus, Germany | Gladhouse | w/ Agnostic Front |
| Feb 11 | Berlin, Germany | SO36 | w/ Agnostic Front |
| Feb 12 | Heerlen, Netherlands | Nieuwe Nor | w/ Agnostic Front |
| Feb 13 | Cassel, Germany | Kulturfabrik Salzmann | w/ Agnostic Front |
| Feb 14 | Augsberg, Germany | Kantine | w/ Agnostic Front |
| Feb 15 | Saarbruken, Germany | Garage | w/ Agnostic Front |
| Feb 16 | Cergy Pontoise, France | Lobservatoire | w/ Agnostic Front |
| Feb 17 | St Brieu, France | La Citouille | w/ Agnostic Front |
| Feb 18 | Montpellier, France | Secret Place | w/ Agnostic Front |
| Feb 19 | Strasbourg, France | La Laiterie | w/ Agnostic Front |
| Feb 20 | Stuttgart, Germany | Speakeasy | w/ Agnostic Front |
| Feb 21 | Hannover, Germany | Faust | w/ Agnostic Front |
| Feb 22 | Jablonec, Czech Republic | Eurocentrum | w/ Agnostic Front |
| Feb 23 | Krakow, Poland | Kwadrat | w/ Agnostic Front |
| Feb 24 | Lodz, Poland | Dekompresia | w/ Agnostic Front |
| Feb 25 | Leipzig, Germany | Conne Island | w/ Agnostic Front |
| Feb 26 | Marchendorf, Germany | Stillbruch | w/ Agnostic Front |
| Feb 27 | Lindau, Germany | Vaudville | w/ Agnostic Front |
| Feb 28 | Schweinfurt, Germany | Alter Stattbahnhof | w/ Agnostic Front |
| Feb 29 | Hamburg, Germany | Kaiserkeller | w/ Agnostic Front |
| Mar 1 | Magdeburg, Germany | Factory | w/ Agnostic Front |
| Mar 2 | Brochum, Germany | Matrix | w/ Agnostic Front |
| Mar 3 | Mons, Belgium | Maximum HXC On Air Studio | w/ Agnostic Front |
| Mar 4 | Den Bosch, Netherlands | W2 Poppodium | w/ Agnostic Front |
| Mar 9 | Long Beach, CA | The Queen Mary | I'm On A Boat Music Festival |
| Mar 10 | Las Vegas, NV | The Aruba | w/ The Sparring |
| Mar 11 | Fullerton, CA | The Slidebar | w/ The Sparring |
| Mar 12 | Tempe, AZ | Yucca Tap Room | w/ The Sparring |
| Mar 14 | Corpus Christi, TX | House Of Rock | w/ The Sparring |
| Mar 17 | San Antonio, TX | The Korova | w/ The Sparring |
| Mar 20 | Tucson, AZ | The Surly Wench | w/ The Sparring |