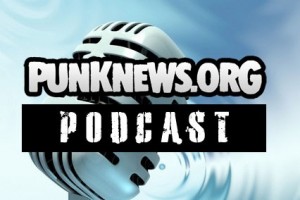 Finally bored of parenthood, Richard Verducci returns to the Punknews Podcast this week to join Adam White and Chris Moran as they discuss events like Pouzza Fest, Punk Rock Bowling and Death to False Hope Fest. We also take a look at recent acoustic Fake Problems videos, upcoming Rancid tour dates and more.
…all this and music from Anti-Flag and One Night Stand in North Dakota.
You can click Read More to stream and/or download the show, or subscribe via RSS or iTunes. You can always send us your feedback in the comments section or via e-mail.
This episode of the Punknews Podcast is sponsored by Pouzza Fest, the punk rock festival taking over downtown Montreal from May 18th to the 20th.
UPDATE: Download and stream fixed. Sorry about that. Spelling is hard.
Punknews Podcast for the week for January 31, 2012