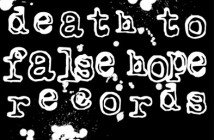 Death To False Hope Records have announced 6 more bands for the second DTFH Fest. The latest additions to the fest include The Slow Death, Capitalist Kids, Ann Beretta, Almost People (members of The Sandwiches), Ascetic Parade, Pink Flag, The Eno Mountain Boys and Young /// Savage.
They join already confirmed acts The Holy Mess, Arliss Nancy, Mikey Erg, Random Orbits, They Stay Dead, Elway, Banquets, The Fake Boys, Red Collar, and Future Kings of Nowhere.
DTFH Fest will take place June 29th-30th in Durham, NC.