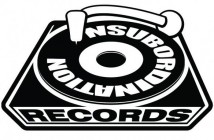 Insubordination Records have been slowly announcing the lineup for this year's Insubordination Fest through hashtags via their Facebook. The bands confirmed so far are as follows: Weekend Dads, Trashkanistan, Bobby Joe Ebola and the Children MacNuggets, Isotopes, Lipstick Homicide, Promdates, Dewtons, Billy Raygun, Mean Jeans, Candy Hearts, Sweethearts, Smokejumper, Nightbirds, Firecrackers, Slow Death, Mixtapes, The Parasites, City Mouse, Houseboat, Beatnik Termites, For Science, Dear Landlord, Be My Doppelganger, Fatal Flaw, Dan Vapid and The Cheats, The Copyrights, The Dopamines, Mikey Erg, Emily's Army, Weston, Unlovables, Plow United, and Teenage Bottlerocket.
Insubordination Fest will take place June 21st - 23rd at The Ottobar in Baltimore, MD.
More bands are continuing to be announced here.