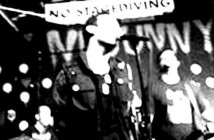 Fat Wreck Chords has signed New York's Morning Glory. The band will be releasing their debut for the label, titled Poets Were My Heroes in the summer.
The band was formed in 2001 by Ezra Kire, also notably of Choking Victim and Leftover Crack. Punknews.org actually spoke to Ezra just a few weeks ago and Ezra noted that the album will definitely not have any of the ska influences of the other bands mentioned:

The music on this record may fall to the rock side of the spectrum, [but] the lyrical content is "punk" by any standard. It covers borders, thanatopsis, addiction, existing against the grain, orphanage, hope, change, anger, etc. Some of it is uplifting. Some of it is sad. Some of it is political. All of it is personal. There is no ska. I don't even like ska and it's a genre I can definitively say I want to no longer be associated with. I definitely wanted to move away from that. I'm tired of being pigeon-holed into a type of music that I never listen to. And while I still enjoy playing ska music live, it's not me in the writing anymore.